Mobile applications are the preferable choice of users right now in the digital world. There are millions of mobile applications available on app platforms, some of them are successful, while some others are hard to survive in the competitive market.
Do you know that the success of an application depends on various factors, such as, how the app is designed, how user-friendly it is, and how effectively it will fulfill its operations?
Basically, the appearance of an app is a top factor that attracts maximum users, and since UI-UX plays a significant role in the success of any app, it becomes necessary to know the pros of having an impressive app design.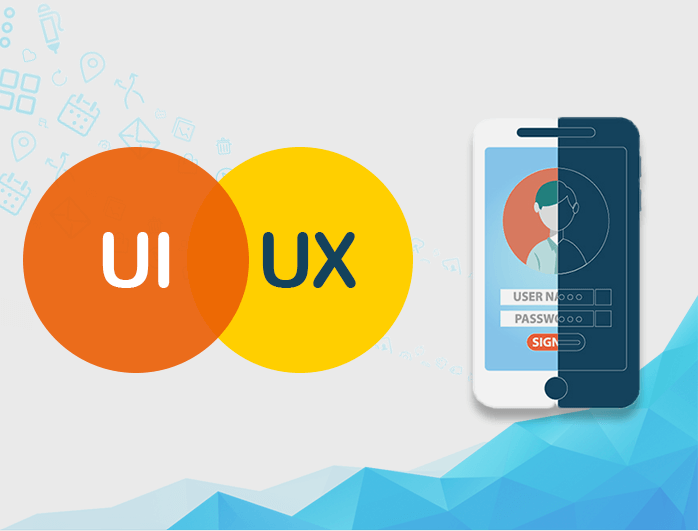 Here we are discussing the importance of UI/UX in a mobile application.
 Understand the UI:  UI refers to User Interface, and it is the outward show of the application that describes the navigation of a mobile application. Users first interact with the interface of an application. UI includes the app design, graphics and presentation. It helps users to interact with the app effectively and help users to understand the concept of a particular app.
Understand the UX: UX refers to the User Experience and it offers a complete experience about the overall design & functionalities of an app to the users. UX contains all the elements within the application that enable users to interact with the app easily. UX must be clear and user-friendly and it should work in the right direction to convert your users into loyal customers.
Importance of UX-UI in a mobile application
For a smart developer, it is very important to know the significance of UI-UX in a mobile application. You can create a high featured app and add lots of functionalities but if you fail to develop a conceptual design, then your application can be in serious danger. Therefore, it is important to create the right balance between app functionality and UI-UX designing.
Here some points that describe the importance of UI-UX
Captative Users – A great UI/UX design directly makes an effective impression on the users. It helps users to find the things that they are looking for. It takes only a few seconds for users after opening an app to decide if that app is good or not good. A good design of an app directly engages with users.
It enhances customer satisfaction hence improved ROI. Once the users of your app visit your application and get satisfied with the design they recommend other users to use your application. It helps you to get more users, and get more leads that increase the ROI.
Saves time and money: When you concentrate on the design concept of your app, it will help your audience to understand more about your application, like navigation and other things. The users of the application who can easily understand the concept feel more satisfied with the end solution.
Get featured in an app store: An application with great user experience is always admired by the audience. The rating and review by satisfied users make your app listed on top.  Getting more users' reviews helps your application rank high on app stores.
Boost your brand: A good UX/UI of an application helps you build a great relationship with your clients. When an app comes with great quality and pixel-perfect design, it creates trust among users, thus it will ultimately lead to building a greater brand value.
How to improve the UI/UX of your app?
Below are some effective points that help you to improve the UI/UX score.
Retain Uniformity: Always ensure the layout of the app fits with equally multiple screens and platforms. A compatible design is always liked by users, and also helps them to access the app easily. It increases the familiarities with an app and boosts the users' interaction.
Use Conventional Elements: Always use conventional elements like buttons, icons, colours schemes, and symbols in the design so that users easily access the application without hassle. It will promote your app and increase the chances of app likes.
Consider Platform Specific Designs: There is a stark difference between iOS UI design and android UI design because designs for both platforms are created on the device level. Understand both material design and human interface design to create a design for an app.
Use Adaptive UI Design: Always prefer adaptive design because it enables developers to make the correct thing on phones, tablets, wearable and other all size screens.
Focus on your Intended Audience: Add all the elements in an app should be integrated while keeping the need of the end-users of an app. Do proper market research about your niche and understand what your audience needs and then implement all the factors in your app with excellent UI-UX experience because it furnishes fantastic first impressions to the users.
Provide fast loading speed: Most of the developers build the app without worrying about its loading speed. One should not ignore the speed factor in an app. Always ensure to build an app with fast loading speed so that users access your application easily without wasting much time.
Final words: UI UX design is a very important aspect of your application. You need to do deep research before you develop an app because a good UI UX design makes lots of reasons for app success.
Understand your market audience preferences and implement your findings in your application to create impressive and easy to access UI UX Design. A good and well-optimized application is always liked by users that ultimately increase your brand value & ROI.