Salesforce has made everyone's life easier with its wide range of impeccable products. One of the most amazing products by Salesforce is Commerce Cloud.
Multiple e-Commerce businesses across the globe have already adopted this technology and harnessing the unlimited benefits.
Whether it is about its unique B2B eCommerce capabilities or its scalability with any business, Salesforce Commerce Cloud always proves as a user-friendly and seamless solution for the eCommerce platform. It allows businesses to convert more customers in a simple & efficient manner.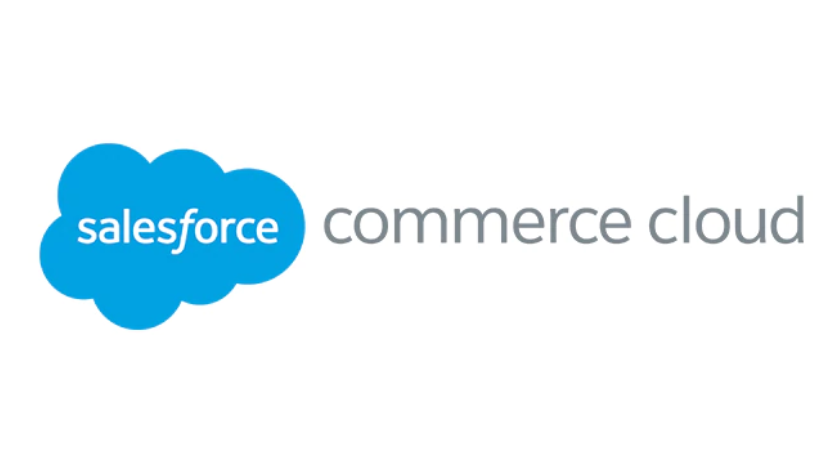 Some Essential Facts on Salesforce Commerce Cloud & Its Market Share
The digitalization in shopping makes it essential for retailers to incorporate multiple channels into their sales and distribution to stay competitive in the market.
On the same hand, consumers who prefer online purchasing also increased in the last few years.
For this commerce, cloud emerges as a boon, which has offered unprecedented opportunities for this market in the near future.
Alone in North America, the commerce cloud market size was recorded USD 8.12.32 billion in 2019, and it is expected to reach USD 55.67 billion by the year 2027, exhibiting a CAGR of 20.8%.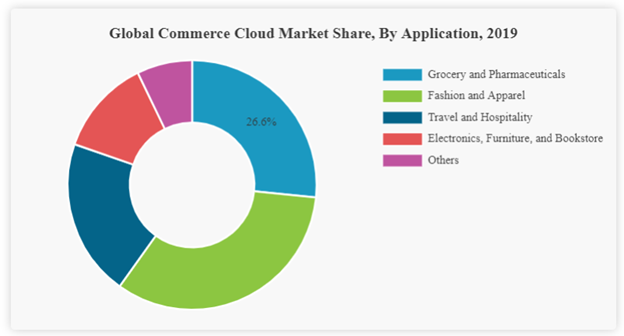 In a survey conducted by a leading digital agency, by the end of the year 2021, the number of online shoppers will become 2.6 billion.
You would be surprised to know this, but this number is one-third of the earth's overall population.
Interesting, right?
So now let's move ahead, and learn more about commerce cloud, and how this cloud-based technology will prove helpful for the eCommerce industry.
What is Commerce Cloud?
Listed as the world's leading B2B and B2C commerce solution, the Salesforce commerce cloud is a medium to run online businesses seamlessly. It is also known as multi-tenant, a cloud-based commerce platform that empowers businesses to build futuristic and inducing shopping experiences for customers across all the channels – store, mobile, social, and web.
The commerce cloud platform allows brands to create a unified brand experience for customers. It also allows businesses to connect with their clients and prospects at every stage of the sales funnel and offer them top-notch support on different channels.
What Salesforce Commerce Cloud Does For Businesses?
To understand the ever-changing behavior of consumers in a better way, businesses require omnichannel insights to meticulously discover and analyze users' behavior, engagement on various channels.
With the help of the technologically advanced Salesforce commerce cloud, businesses can effectively launch sooner, grow faster, and tap more prospects and customers.
The best part of the commerce cloud is that it is infused with the next-gen Artificial Intelligence (AI) technology that enables brands to establish one to one personalization without getting help from the data scientists.
It means that now businesses can learn about customers' purchasing patterns, interests, and other attributes, which will help businesses to identify future opportunities to sell across different untapped channels.
What is Salesforce B2B and B2C Commerce Cloud?
There is no doubt that cloud technology is efficiently shaping the future of the eCommerce industry. From online purchasing to anywhere pickup, the commerce cloud will make customers ready for whatever comes next.
To enhance customer experience, Salesforce offers two most amazing eCommerce solutions namely, B2C commerce and B2B commerce. Both these products allow retailers and businesses to deliver excellent service management, marketing, manage content, data management, and many other activities.
Let's understand these two in detail.
B2B Commerce Cloud for eCommerce Industry
Equipped with all the amazing B2B functionalities, the B2B eCommerce solutions make online buying easy for you. It will help businesses to generate more revenue. It will offer the buyers a smooth self-service online shopping experience.
Here are the major functions of B2B eCommerce solution:
Augment Online Revenue – The easy to use eCommerce features are specially tailored for B2B customers. It offers simple self-service online buying, helps businesses to optimize daily b2b functions, solves b2b eCommerce complexities, enables your channel partners, bolsters your sales team, and gets to market faster.
Higher Customer Engagement – It not only makes B2B communication seamless, relevant, and connected, but also offers a 360-degree view of customers. It makes B2B eCommerce personal, lets you stay connected with customers in real-time, and improves customer retention.
Scaling up businesses – By augmenting business, we mean that the B2B commerce cloud solution helps you hit the market rapidly, innovate more quickly, help businesses in reducing costs, and reallocate resources effectively.
B2C Commerce Cloud for eCommerce Industry
The Business to Customer (B2C) eCommerce solution by Salesforce helps online shops to connect with shoppers anytime and anywhere with a B2C eCommerce solution.
The following are the significant functions of the B2C eCommerce portal:
Improve Customer Experience – The B2C commerce cloud solution enables businesses to optimize the conversion funnel, and leverage social extension.
Easy Promotion – With the help of this solution, businesses can develop & launch multiple marketing campaigns without any special help. It helps launch campaigns faster, unify products, pricing & catalog, offer customers a memorable content experience, and streamline personalize merchandising.
Advantages of Commerce cloud for eCommerce Businesses
There are many benefits of using the Salesforce commerce cloud for eCommerce businesses. Let us understand the commerce cloud benefits for the eCommerce industry:
Drive Sales – Powered by next-generation technology the commerce cloud effectively connects businesses to businesses and businesses to customers like never before.
Rich Mobile Experience – It has become the need of the hour for businesses to have a mobile-friendly and responsive eCommerce store. One of the biggest benefits of commerce cloud for an eCommerce store is its mobile-first approach.
Foretelling Intelligence – Salesforce has effectively embedded Einstein AI, a next-gen AI platform that eliminates the need of using 3rd party extensions, and manual data analysis. The predictive intelligence of the commerce cloud lets you save your valuable time and money. It also helps customers to make the right purchase decision by suggesting to them the right product based on their behavior.
Internationalization of Stores – The futuristic technology of commerce cloud helps organizations manage multiple storefronts for multiple locations across the world from a single back-end platform. The technology also effectively lets you manage multi-currency, multi-language, and multiple processes.
Omni-Channel Functionalities – Commerce cloud is known for its amazing capability of empowering merchants to run their businesses across different channels via a single platform. The retailers can streamline their different works like sales, order management, inventory management, etc.
Some Other More Extraordinary Functionalities of Salesforce Commerce Cloud
Help businesses to spread their reach.
Effective integration of pricing, catalogues, and products for simplified merchandising.
Strong in-built SEO functionalities that bolster online presence.
Salesforce commerce cloud CRM can guide & engage customers at the next level.
It enables easy data integration.
Top Companies That Are Using Salesforce Commerce Cloud
There are various top-rated companies that are using Salesforce commerce cloud. Here are a few names:
Adidas
Godiva
L'Oreal
Benetton
Billagbong
Columbia
Pandora
Skullcandy
Under Armour
How Fexle Services Can Help You With Salesforce Commerce Cloud Implementation?
Being a leading Salesforce consulting provider, Fexle Services always offers top-rated commerce cloud implementation services to it's global clientele.
The company has professional experts who are the pinnacle of Salesforce technology. They can effectively build and implement scalable as well as secure commerce cloud features.
The major Salesforce commerce cloud services offered by Fexle include B2C commerce, visual design experience, omnichannel commerce, commerce cloud integration, and many more.