Today in this blog, we will be discussing how much it cost to develop a cricket betting app like DREAM 11.
After the successful launch of the DREAM 11 app, the world of fantasy sports has seen a massive increase in the number of fans all around the world.
The fantasy apps have become an ideal partner for sports lovers by providing them a virtual experience.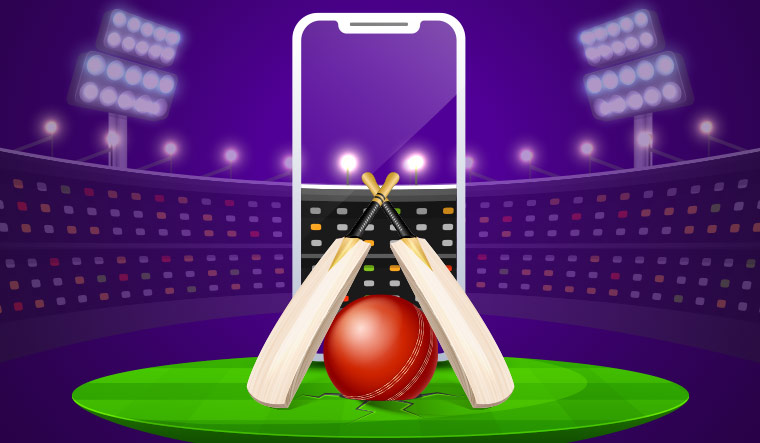 Before moving further with this topic, we will understand what exactly the DREAM 11 app is all about, and we will also discuss its features, panels required, etc.
Who had ever thought that one-day gaming apps would end up being the ultimate solution to engage the purchasers?
Research states show that 225 million active game users happen to be spending typically 60 mins participating in the mobile on a daily basis over five lessons, and 90 percent of the game revenue comes from mobile.

This is the main reason that sports businesses are busy developing their own application like the DREAM 11 app.
Model of Dream11
Fantasy sports apps are the gaming applications where users assemble virtually and select their professional player's team who are actually participating in the match.
The users are awarded the points on the basis of the actual performance of the selected player in the real match.
If someone is planning to develop an app like DREAM11, he must first understand the business model and the workflow, then only he can understand the cost and features required to build an application.
Features of Fantasy sports:
The Business model is legal and 100% safe to play.
Swiftly growth in user base with millions of online cricket fans.
99 out of 100 people are familiar with Fantasy Cricket sports App
People get easily addicted to it.
Benefits of developing an app like Dream11
Never-ending events: As we all are aware that there are numbers of cricket tournaments such as IPL, test match, ODI matches, etc. Therefore the scope is enormous for this kind of app.
Limited Competition: Not everyone thinks about developing a fantasy sports app, as it requires huge research and money to invest, and so there will be very little competition.
A Legal App: The perception of betting in any game is not legal in India. But still, fantasy cricket apps are legal and genuine. It's a game for users who are fond of playing or watching a cricket match. This is one of the main reasons why a fantasy sports app like Dream11 turned out to be a huge success.
Working of Dream11 App and Its Features
Initially, the fantasy sports app was developed as a fun activity among several close friends, but soon it gained popularity overnight around the globe, and even the cost to make an app like Dream11 significantly increased in the USA and Europe regions.
For Users
Sign up/Log-in: Customer can Signup and log-in.
Home Display screen: This is the main/default monitor that end users will acquire after logging into the apps.
Start Competition: Users should pay the particular entry costs and become a member of the contest.
Payment: Apps should have Online payment settings such as Credit/Debit Credit card, Paytm Wallet, Use wallet, Referral money bonus points.
Create personal contest: User should allow creating their own contest
Contest Listing: In this section, the end-user can view the complete contest listings with details.
My Contest: A individual will in a position to view the set of joining contestants
My Profile: Helps users to view & update their account details.
Settings and much more: An individual can view various other required top features of the apps such as for example Invite & Earn.
Client Management Area: This section includes, About us, Assist, Contact Us.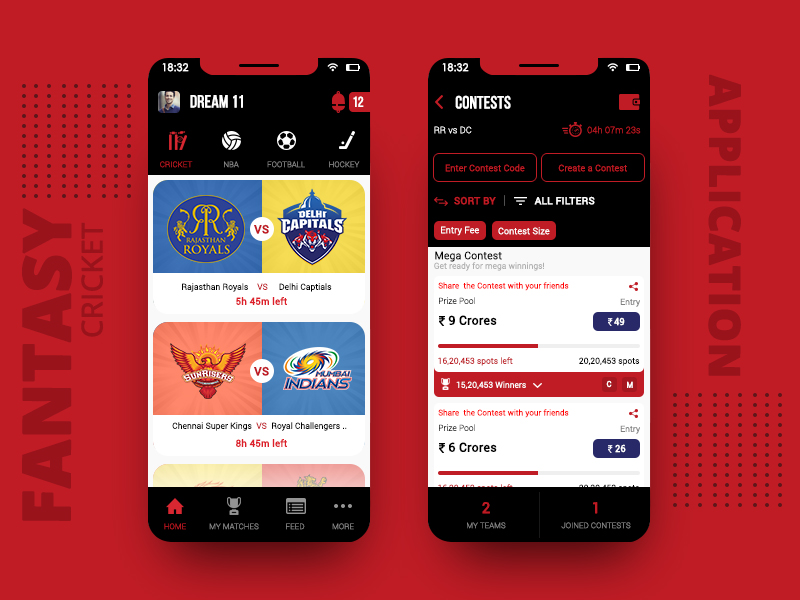 For Admin
Admin login: From right here, Admin must log in for the apps making use of, Username & Security password.
Dashboard: This section provides the stats for domains, such as matches completed (Upcoming, played Matches, Ongoing,), Full Contestant, & Whole Earnings
User Office manager: Admin can cope with the entire consumer bank account, like Edit/Delete/Put/Active/Deactivate any accounts.
Contest Manage Panel: From here, Admin will manage entire suits of the application form and may Edit/Erase/Add/Active/Deactivate matches.
Games Classification: Admin can handle game types such as ODI, Test, T20.
Income: Admin should see the total revenue earned with various filtration systems. Manage Repayment: Admin will be in a position to manage various settings of repayments of the application form.
Reward Tips: Reward Factors could be supervised by Admin.
Cash Benefit: Admin must have an option to manage the money prizes and dollar bonus for participants.
Accounts: This section help admin to generate reports such as Contest studies, Contestant reports, overall match report, Earning Record, Player Rating reports
Manage Bank Withdraw submission: Admin will in a position to view entire demand through the contestant to withdraw their receiving amount to their respective bank
Additional Functions
Live Match Score: There must be a live update of the score where the user can watch live results of the matches. Apart from this app must send sports highlights and original video program notification.
CRM integration: The application will be integrated using the back-end service and facilitates in managing seat tickets, user-location, send messages, press notification, and demonstrates useful in lots of other ways.
Push Notification: Notifications and messages are usually delivered to the users to see if it is time to develop a team, once the match will start, etc.
Are you excited to make money through fantasy cricket apps? Refer the points below
Advertisement: It is the biggest source of revenue generation. As advertisement rules the world, it will help users earn a great amount of money through advertisements.
Giving other businesses the opportunity to advertise with us: Fantasy sports solutions are designed in the way to display ads.
Creating fantasy sports software for multiple platforms(ios, android, hybrid, etc.): Build fantasy cricket apps for multiple platforms to tap large audiences.
Organizing free leagues & paid leagues: Allow users to participate free of cost. The feature helps to understand the game to those who are willing to become an active member of the gaming site. It augments number of users, registration, and app's demand,
Time to time update: After your app runs successfully, you could go ahead and add interesting elements for user engagement and ways of making money.
Sell sports based merchandises: You can also introduce and sell sport-based merchandising.
Types of Fantasy Games
Daily & weekly games
Score based game
Type of concept based game
Type of league based game
Popular Sports for Fantasy Games
Fantasy Cricket Apps & Software
Fantasy soccer mobile application & software
Fantasy football apps & software
Fantasy basketball mobile apps & software
Fantasy Rugby Mobile Apps & Software
Baseball fantasy apps & software
Fantasy Sports mobile application for Golf
Factors Affecting the Success of Fantasy Sport App
If your app gets a presence in the digital world and among the users, then there will be plenty of money in the Fantasy Sports App. Below we are mentioning some tips that will help you to make your app successful.
Research of the functionality and procedures of competitor apps follow to get success.
User Interface much be simple and easy to understanding
Players beat their own credit score, or they perform to unlock the new brand and benefits. You should provide an extra coupon, additional rewards, etc to all the players.
How Much Does an App Like Dream11 Cost?
Indeed, Dream11 App development cost relies on numerous factors like Complexity, Geography, Android/iOS, in addition to a design that is the soul of the apps like Dream11.
An improved UI ceaselessly prompts compelling applications. Mobile application development, design, and style include logos, wireframes, aesthetics, color mixtures, etc. are also important. App building plays an essential role in Fantasy sports app development cost estimation. The factors affecting the cost are:
Geography: Rates of developing an app vary from where a sports app developer belongs to. US developers cost quite more than Indian developers. The cost to the designers and programmers varies from region to country.
Complexity: Significantly more qualities and functionalities improve the application, much more the intricate it'll get. Complex apps need a brilliant experience developer. When the complex applications need a splendid encounter, and thus the expense of the dream11 mobile application will result in higher fees by programmers.
Android OS/iOS: As compared to Android app developers iPhone sports app developers are significantly less in number. iPhone mobile app coding is tough therefore, android app development cost of sports application much less, whereas iPhone app developer demands high.
Ionic: This progress works for both Android OS and iOS systems. The coding requires lots of experience as it is complex. This coding application works on both platforms (Android and iOS). This is the reason Ionic growth is higher-priced than android/iOS.
Conclusion
There are multiple fantasy sports mobile application development companies around the globe that can create the gaming app as per the business enterprise requirements. But it is difficult to find the right company which provides high-quality apps and the budget of a Cost of Fantasy sports app in a budget-friendly manner.
At Fexle Services we focus on developing Fantasy Sports mobile app and website solutions that are not only viewers captive, but additionally scalable, trustworthy, and built-in adherence to all regulations and compliances.