The realm of grocery mobile applications is surging high for the past few years. Due to the sudden outbreak of novel Coronavirus, the demand for on-demand mobile apps including grocery apps have reached the next level.
Talking about the Grocery sector, according to customerthink.com, the sector will rise to $38.16 billion by the year 2021.
The rapidly growing community of online grocery app users is 55% of youth aged between 25 to 34 years. 45% of people aged between 34 to 45 years and 35% of users aged between 45 to 54 years.
The number of grocery mobile app users is expected to rise to 30.4 million by the year 2022.
The increasing number of grocery applications has paved the path for success and opportunities for mobile app development companies.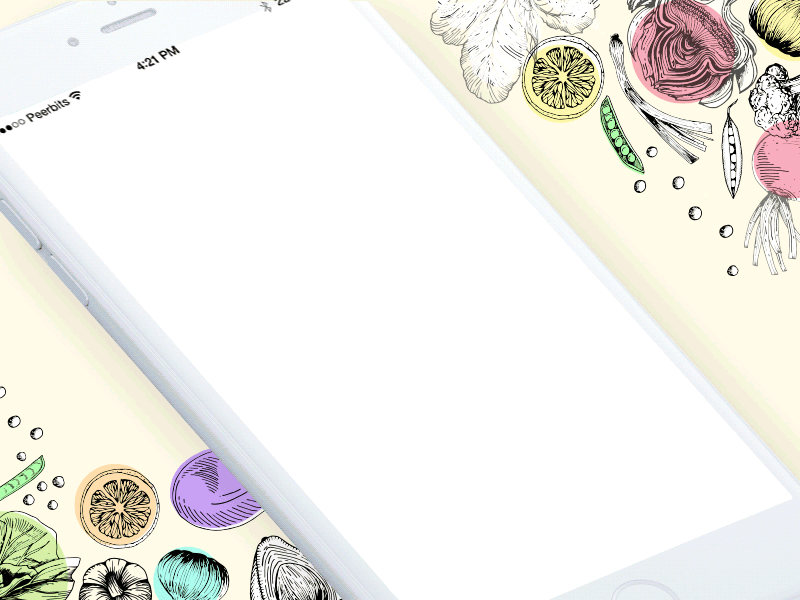 So if you are planning to go for grocery mobile app development, then this post is for you. Do read this post till the end, for we are going to discuss the innovative & captivating features that will make your app superiorly amazing.
So let's start with!
Types of Grocery Shopping Mobile Apps
In general, there are three types of grocery apps that are popular in the market among customers. These three types of apps include:
The e-Commerce Grocery Delivery App – The best example of e-Commerce grocery apps is Flipkart, Amazon, etc. All these apps are offering a spectrum of grocery items at multiple locations. These kinds of apps also facilitate users to select suitable delivery time as per their availability.
Individual Grocery App – Mobile applications which are only focused on fulfilling grocery needs, such as individual grocery mobile apps. BigBasket, InstaCart, and Grofers are some popular names that fall under the individual grocery mobile apps' category. Such apps also offer customers services like a grocery list, grocery IQ, and delivery.
Supermarket Grocery Mobile App – Ever since the online grocery sales have risen, multiple supermarkets such as Costco, and Publix have started jumping into grocery app development. These kinds of mobile apps harness the power of beacon technology and send them to push notification where their customer is near to the store.

Top Market Players of On-Demand Online Grocery Business
| | |
| --- | --- |
| Top Player Names | Founded |
| Peapod | 1989 |
| InstaCart | 2012 |
| Shipt | 2014 |
| FreshDirect | 2002 |
| Farmigo | 2009 |
| Walmart | 1962 |
| Grofers | 1962 |
| UNZO | 2014 |
| BigBasket | 2011 |
What Are The Benefits of Grocery Delivery Mobile Apps for Business and Users?
The on-demand grocery mobile applications are designed to leverage both businesses and consumers, with multiple benefits. Here are some significant benefits:
Health-Caring Option – In the era of the pandemic when Covid-19 is spreading like wild-fire, in such a situation, grocery delivery apps prove as a boon, especially for elderly who are staying alone. They can order their desired grocery items within a few clicks and get their essentials at their doorstep without going outside and maintaining social distancing.
Time-Saving – With the grocery app by your side, you do not have to visit the grocery store personally and can save your precious time.
Round The Clock Availability – Unlike brick and mortar stores, the grocery mobile apps are open 24×7. Users can choose the desired essentials anytime as per their convenience from anywhere across the globe.
Saves Money – Grocery apps often have multiple offers and discounts listed on their platform. Users can avail of these seasonal discounts and save a huge chunk of the amount at the time of check-out.
Easy & Secured Payment – Customers of online grocery apps get the facility of easy and secured payment wherein they can pay either via the online method (debit card, credit card, etc.) or by cash on delivery.
Seamless Inventory Management – Grocery apps also allow business owners to closely watch and manage inventory to effectively meet the demand of the consumers.
Grocery App Panels and Features for Different Users
Customer Side of Grocery Apps
Sign up/Login – It allows users to sign up and log in using their email id or phone number and password.
Choose Supermarket – Users can select the supermarket of their choice from the available list and check out the available products.
Location – App provides the delivery location with a complete address.
Search & Filter – Users get an easy product search option with details of the products such as name, category, etc.
Buy – This feature lets users select the available products and add them to the shopping cart.
Shopping Cart – The selected product can be kept in the cart before checking out.
Payment – Different payment options are available according to users' preferences.
Wallet – It will give you the details of the available balance and recharge wallet options.
Return & Cancel – Users can return or cancel the placed order if not satisfied with the product.
Schedule Delivery – Users can schedule their delivery as per their convenience and availability.
Track Order Delivery – Users can easily track their orders and the current status of order delivery.
Order History – Users can check the history of their previously made orders date-wise.
Rate & Reviews – It allows adding ratings and reviews of a particular product.
Wishlist – Users can add products that they want to purchase or keep for future reference.
Chat/Message – Users can chat with the delivery person and enquire about their product delivery status.
Notifications – Notify about a placed order, promotional schemes, offers, etc.
Offers & Coupons – Save your money by availing listed deals and offers.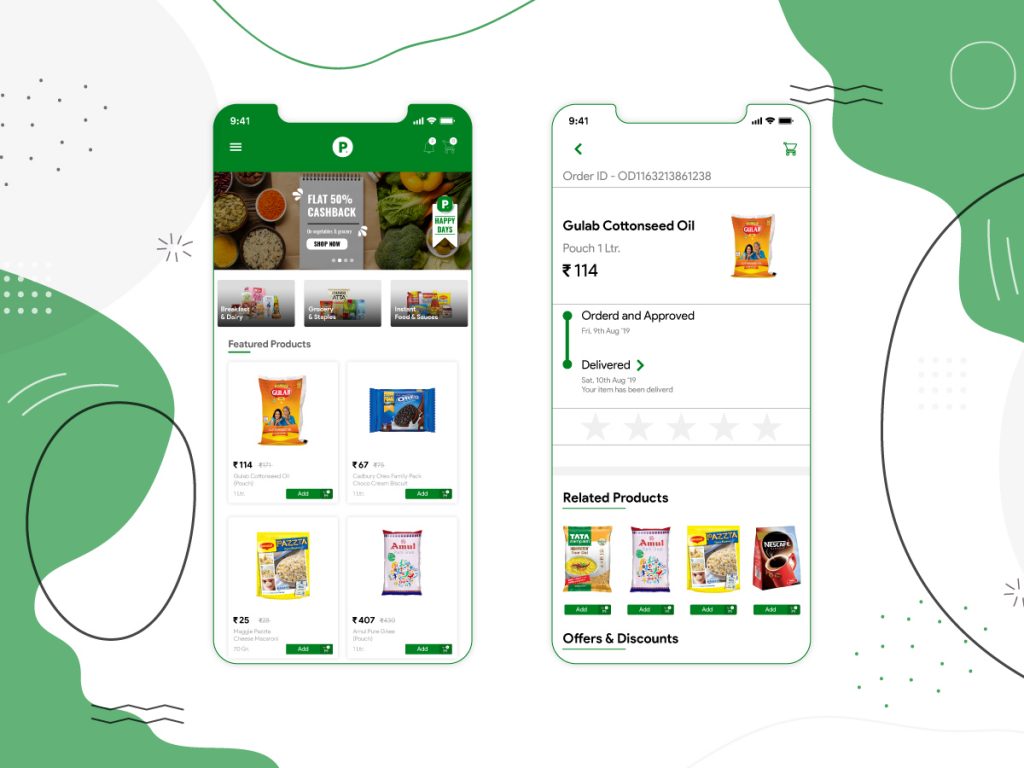 Grocery App Admin Panel
Dashboard – This feature will allow admin to manage and track all orders activities to streamline the grocery business.
Store Management – This feature helps admin with chains of multiple restaurants to efficiently manage orders & customer counts from a unified place.
Assign Managers – It gives fluent execution of orders and activities in the grocery store, admins can also add managers in the workplace.
Assign Order – Manages can assign new orders to the grocery stores & ensure effective order executions across the stores.
Manage Customers – The owners of grocery businesses can witness & coordinate with customers that are attuned to the app.
Manage Payments – It enables payment management in a transparent way.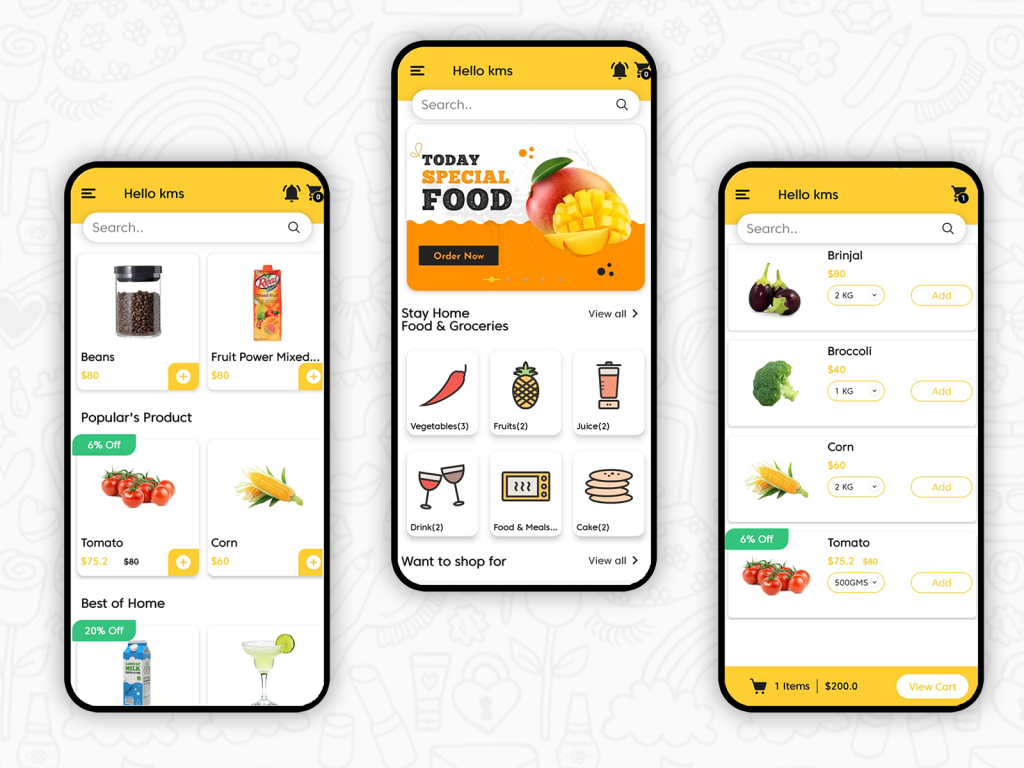 Grocery App Delivery Panel
Delivery Request Notification – This feature shows the detail such as order number, etc. of the deliveries which are yet to be made.
Accept or Reject Delivery Request – The driver can cancel or accept the request in case the location of users is far away or due to any other case.
Track Customer – The delivery executive can track customer location and identify the best-optimized path for making on-time grocery deliveries.
In-App Chat – Driver can establish communication within an app to fix delivery time or to confirm the route.
Delivery Confirmation – The delivery executive can update the status of the delivered grocery to get confirmation from users as well as the store.
Some Critical Features For On-Demand Grocery Delivery Mobile App
Real-Time Analytics – It will give stores admin huge chunks of data based on processes information. This feature allows stores and admins to check various stats that help them flourish their business.
Push Notification – With push notification, businesses can improve their user acquisition and retention. The customers get notified to purchase new grocery products and services. Push notification can transform the grocery business by enhancing its visibility and engagement with customers simultaneously.
Modes of Communication – It is essential to allow the customers and the drivers to communicate through a transparent platform where they can share vital information such as a delivery address, landmarks, expected time, etc.
GPS Tracking – Don't forget GPS features at the time of grocery delivery app development, as it can help drivers to locate destination and miles to be covered. The information can be updated in real-time to keep every stakeholder attentive before delivery.
API & Synchronization – An app backed-up by strong and properly synchronized API will ensure a sturdy grocery app. Some of the significant API & synchronization include SMS Gateway to send SMS notification of promotional deals and offers, another is Payment Gateway that simplifies the payment process, next emails to send automated emails to update them for order-related details, then there is Analytics, which provides an analysis of the number of user registration, order confirmation, order cancellation, etc.
Technology Stack for Grocery Mobile App Development
The ever-evolving world of technology and tools makes it difficult for store owners to choose the right technology for grocery app development.
In general, the technology stack works on the different requirements of a business. Below are mentioned the consolidated list of the technology stack used for grocery app development.
Data Management – Kafta Software
Amazon S3 – Storing & caching purposes
GraphWalker – Python service integration & model-based testing
Google Cloud Platform – Primary platform structure development
Proxy Server Implementation – Nginx
Real-Time Analytics – Spark, Hadoop, BigData, Apache Flink, Cisco, IBM
Push Notification – Twilio, Push.io
Cloud Environment – AWS, Google, Azure
SMS, Voice, Phone Verification – Twilio, Nexmo
Database – MongoDB, Hbase, Cassandra, Postgress, Mailchimp Integration
Payments – Braintree, PayPal, Stripe, EWallets
Team Required for Online Grocery App Development
The on-demand mobile app development process is not everyone's cup of a team. Fexle being an experienced grocery app developer knows every ticks and tack of grocery mobile app development.
Fexle services have a seasoned team of mobile app developers and designers that are the pinnacle of their domain.
As a top-rated grocery delivery app development company, Fexle offers a well-managed and sturdy team structure. This team structure includes:
Project Manager – One who handles all the work associated with the app development. He/she keeps a bird's eye view.
Developers – Different developers for different requirements like Android App Developer, iOS app developer, and back-end developer.
Designers – Proficient UX/UI designers, graphic designers.
Testers – Experienced QA team with amazing testing & bugs tracking skills.
How Much Does It Cost To Build a Grocery Delivery App?
The grocery delivery app is a long and meticulous process that involves multiple factors and talents. Therefore, it is not easy to depict the cost to create an app like Bigbasket or Grofers.
The cost of an application can be fixed on the needs of the clients and application features. Another factors that determine the cost to build an app like Grofers or BigBasket include the complexity of an application, the platform to use, and the country in which the grocery app development company is situated.
So if you are wondering, how much does an app like Big Basket cost, then here's an estimated rate which might help you in taking a final decision –
US-based developers – $50 to $250 per hour
Eastern Europe based developers – $30 to $150 per hour
India based developers – $10 to $80 per hour
For a single platform cost of a grocery delivery app falls in the vicinity around $10,000 to $40,000 for a single platform, and $30,000 to $60,000 for cross-platform (calculating all overheads and other factors including, technical documentation, UX UI design, QA & testing, etc.)