What learning experience would you like to go for, a chapter in a book telling you about ancient history or an immersive virtual tour of an ancient civilization, and lifestyle?
Mostly, you'd go for a Virtual Reality (VR) tour and so will load of students all over the world.
The VR technology can be used to teach lots of things, from history to human structure, and to civil engineering.
Now suppose that you want to explain biology to children; pointless to say, getting them attentive in the learning procedure can be really a challenging task.
But there's a method – you can take the help of Augmented Reality technology.
Augmented Reality mobile apps are proving very helpful. Students can direct their smartphone cameras at images in their books and virtual objects will look on smartphone screens.
Educators can use augmented reality to teach of any kind subject they need – from the alphabet to geography to chemistry.
Difference between Augmented, Virtual and Mixed Reality:-
Augmented Reality
Augmented Reality is the outcome of using technology to use the superimpose information – sounds, images, and text – on the world we see.
AR adds digital attributes to a live view with the help of the camera on smartphones.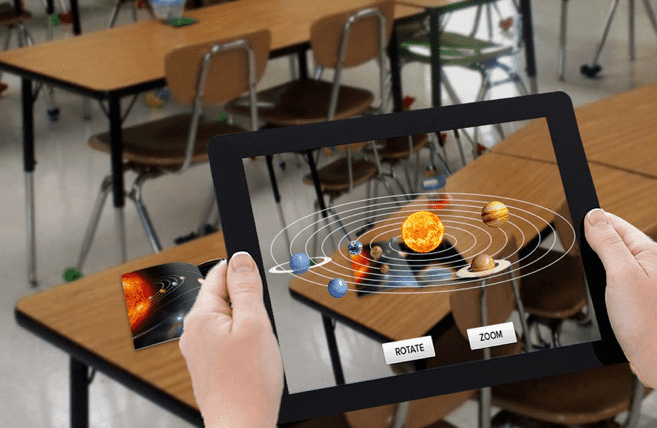 One of the most common examples where AR has become a part of our normal lives is mobile games.
In 2016, the AR-driven game 'Pokémon Go' turned into a global sensation, with over 100 million valued users, as per the reports by CNET. It finished up creating more than two billion-plus USD, according to Forbes.
Mixed Reality
Mixed Reality (MR), is also known as hybrid reality. It is the amalgam of real and virtual worlds to develop new environments and visualizations where physical and digital objects co-exist and interrelate in real-time.

Civil engineers harness the power of mixed reality to find pressure spots and weaknesses in their bridge designs. Students can use MR to study the functioning of the human brain.
Virtual Reality
The virtual technology term is used to describe a three-dimensional, computer-generated environment that a user can explore and with which one can interact. In a VR generated environment, a person becomes part of the virtual world and can even manipulate objects or perform a series of actions.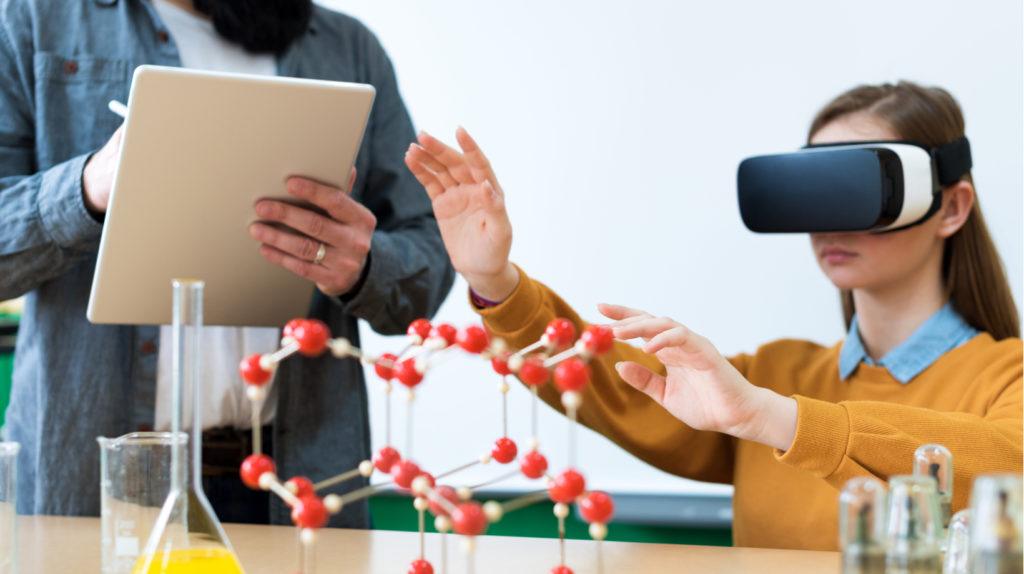 Through VR experience you can completely shut the physical world out for you.
Role of AR/VR in Education
Augmented Reality and Virtual Reality markets are surging high and it is expected that the market will reach $179 billion by the year 2022. The advent of AR and VR technology will help school and college students in enhancing their understanding of a particular topic.
Now teachers can easily explain the lungs, its functionalities, details, and other concepts with visual details.
Visualization: Virtual reality in a classroom that helps children to gain exact information by visualizing the things that can relate to reality. It even assists in simplifying the memory issue and students know to ask more for knowledge.
Immersion: Three-dimension view with effects helps students to understand the future aspect. With a view, teachers can educate them with deep structure and rightly used principles, implementation, and execution.
Involvement: The whole teaching scenario is changed in the classroom by getting knowledge through video and visualizing things in a better way. Students will be more engaged to learn and that is possible by AR/VR Solution Provider.
Concentration: Students will be surrounded with Virtual things full of knowledge that facilitates them to focus on study material and nothing is going to distress studies if it's AR/VR Education.
Interaction: A project or a module, everything is now teamwork, whereby augmented and virtual things into studies ask interaction amongst faculties and students. It will bring students together and improve the overall learning process.
The AR Innovation Benefits for Students
The AR technology will help companies to make the learning process for the students more effective and easy. Students in colleges and schools can easily manage their whole work with a better understanding of subjects.
Schools and colleges do not have to invest huge investment in the implementation of this technology, as there are already many AR VR educative apps available in the market which can be used with small alterations as per specific requirements.
Virtual Reality in Training and Education
The best part about VR technology is its powerful immersive technology because of which teachers can make students learn the topic or subject with the utmost ease.
Virtual reality gives students a more personalized experience. Students become the part of that virtual world while studying and it creates excitement among them. Additionally, VR technology-based education is a motivating way of the learning process and augments collaboration between teachers and students.
Reasons why School/Colleges/ Students Should Start with AR/VR As a Solution
– Students will become more enthusiastic to learn.
– It increases the urge to learn more among students and induce them to implement the same.
– Students can get to learn everything in detail and remember all the important tasks.
– The upgraded process is more adaptable and acceptable when it compares to the old process.
AR, VR technologies are paving the path for the next generation solutions in the education sector. We at Fexle provide advance AR, VR education app development solutions to our clients that help them to boost their ROI, and help students to prepare with the educational tools of tomorrow