London's Calling, listed as one of the most influential and most amazing Salesforce event, is back again with it's another season. It is Europe's largest community-led event for Salesforce professionals.
London's Calling aims to bring the entire Salesforce community under one umbrella so that people can build new relations, network, share good knowledge and practices. The event will be organized, run, and delivered by the Salesforce community to the people within the group.
One of the best parts of the event London's calling is that it is a non-profit event where people from the Salesforce community access the best content available and enrich their as well as others' knowledge. This event will have some of the best keynote speakers from across the globe who will take numerous sessions on different aspects of the ecosystem of Salesforce.
Fexle Services at London's Calling 2020
Fexle Services is one of the leading Salesforce consulting service providers in the world. We are a Salesforce Silver Consulting Partner, and we are extremely excited to be a part of this Salesforce event. We are ready to gain and share knowledge on augmenting the customer and employee experiences in this wonderful Salesforce event.
We are all set to participate with the active and growing Salesforce community in Europe. It has 63 groups for developers, administrators, and business users, and the number is still growing exponentially in the region. 
Build Highly Personalized CODE-FREE Dynamic Email with Marketing Cloud
The company's CEO, Mr. Bhawani Sharma will represent Fexle Services at London's Calling 2020.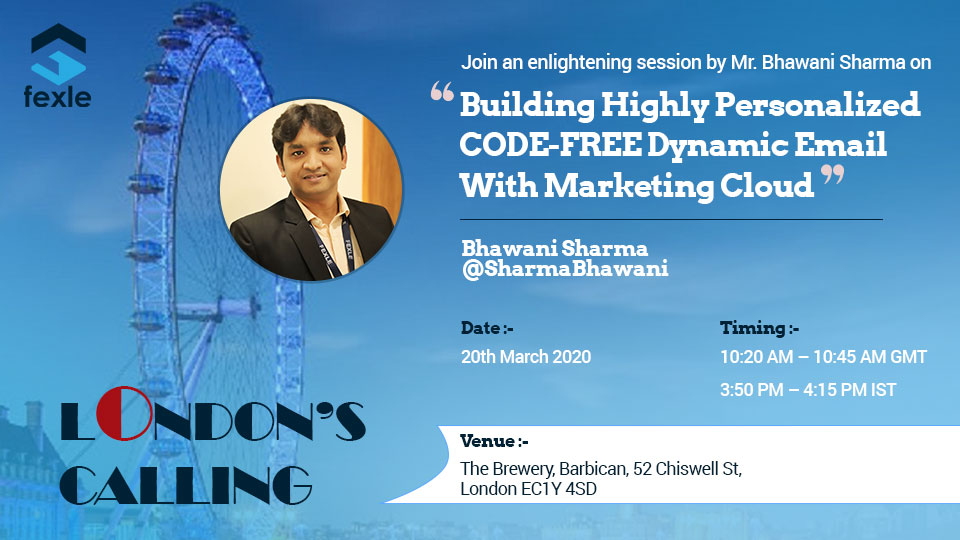 He will speak on building a highly personalized Code-Free dynamic email with the marketing cloud wherein he will share the importance of sending the right message to the right set of audiences which is the key to marketing success.
In this data-driven world, utilizing big data in an effective manner is the need of the hour. Sending the same message to all the subscribers without concerning their interest can cost business severely.
As a speaker, he will discuss on using dynamic and user-specific content and how it will help businesses to grow exponentially at a faster pace.
So if you are the one who sends emails to customers in which they are not interested, and if you want to build dynamic rules & enhance user engagement then do visit King's Vault at London's Calling at 10:20 am on 20th March 2020, and be a part of this enlightening event.
London's Calling 2020 Details
Date – March 20th 2020, Friday
Time – 8:30 Am to 11:30 PM GMT
Venue – The Brewery, 52 Chiswell Street, London, EC1Y 4SD, United Kingdom
Book a meeting