In an epoch of cut-throat competition, customer focus and customer-oriented thinking are the two major factors that help businesses to build and serve their clients top-notch quality solutions.
The world's largest cloud platform, Salesforce helps you link all the functional areas of your business under one roof, such as customer service, marketing, sales, etc. It would give you a holistic understanding of your client base. Salesforce offers its clients multiple solutions which are developed with an aim to streamline customer relationship management.
To improve the functionalities of this CRM platform, FEXLE Services has come up with a novel and unique application.
What is this application, when it will be available for you to use, how it will prove beneficial for your organization, how it will smooth your work,  will it be free? You must be having so many questions in your mind.
Worry not; FEXLE Services is here to answer all your questions. Now, let us start with our basic question, that is, what is this application.
Org Dictionary: A Salesforce Schema Reference Book
We are a Salesforce Silver Consulting Partner, and we constantly explore the ecosystem of Salesforce so that, we could bring innovative solutions to our clients. In the series of innovation we have built, an application namely – Org Dictionary.
This application is designed and developed under the aegis of Salesforce professionals who are the pinnacle of the Salesforce eco-system. They analyzed problems of the users and built Org Dictionary, an app that can streamline all project related queries.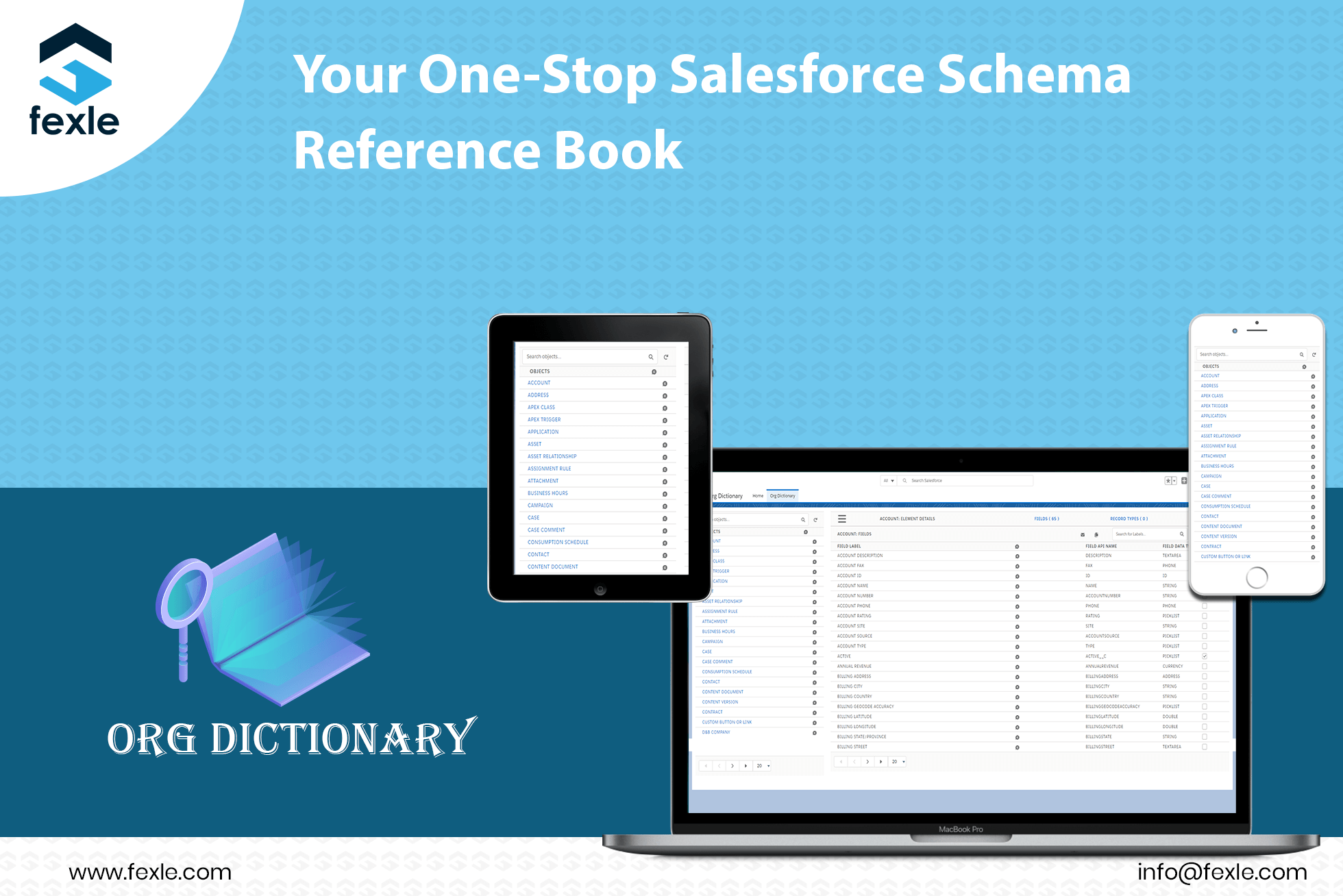 Org Dictionary is your one-stop Salesforce schema reference book, where you can learn and build your own project-centric vocabulary.
FEXLE is proud to say that Org Dictionary is first of its kind's application that let users bolster their project-specific vocabulary of metadata that include custom objects, fields, record types, and many more.
This application enhances the standard features of Salesforce and enables users to create a custom set of vocabulary based on a particular project along with custom metadata, fields, etc.
With the help of this dictionary application, your entire organization can retrieve all the information about a specific component such as, why that component was created, how to utilize that component, and many more.
You can understand it in this way, suppose a field is created in a system, now with the help of Org Dictionary, you can learn what is the meaning of the field, why that field was created? And at any point in time, you can discuss this field with the experts, and resolve your queries.
Org Dictionary is FREE
With the Org Dictionary application, FEXLE Services is going to embark its presence on Salesforce's cloud computing store namely – AppExchange. You can easily find our app on the platform. It is easy to use, and it is absolutely FREE.
Org Dictionary Enhances Real-Time Collaboration
With the help of Org Dictionary, you not only can expand your Salesforce schema vocabulary, but you can also learn the meanings of new objects, their metadata, and many more.
With the help of this project dictionary, users can effectively work together, they can conduct discussion, and they can also share their ideas and information with each other without any fuss and hassle.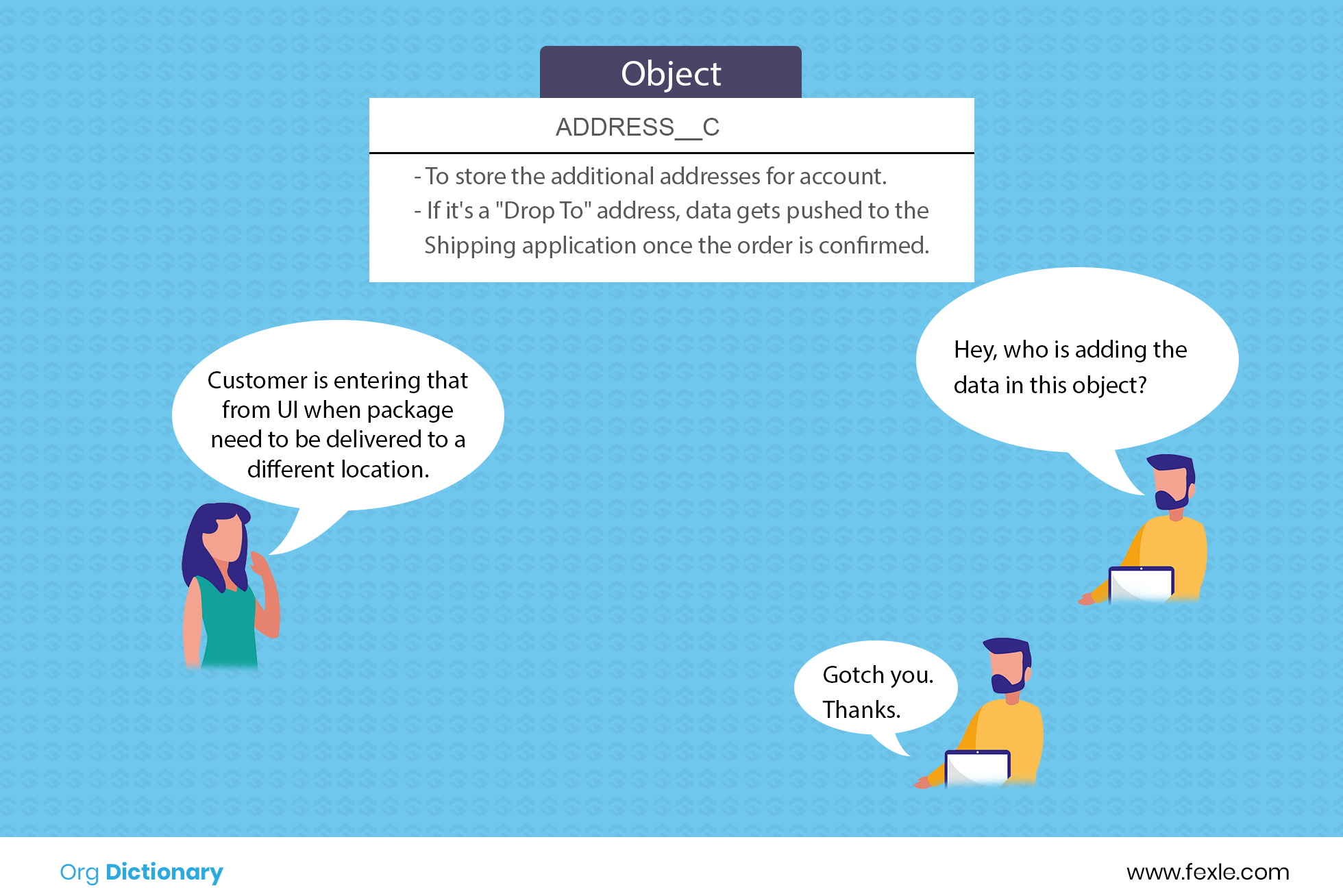 Along with it, users of Org Dictionary can also quickly browse and explore object metadata information, and they can find entire detail of a particular object such as who has created that object, what is the purpose of creating that object and many more.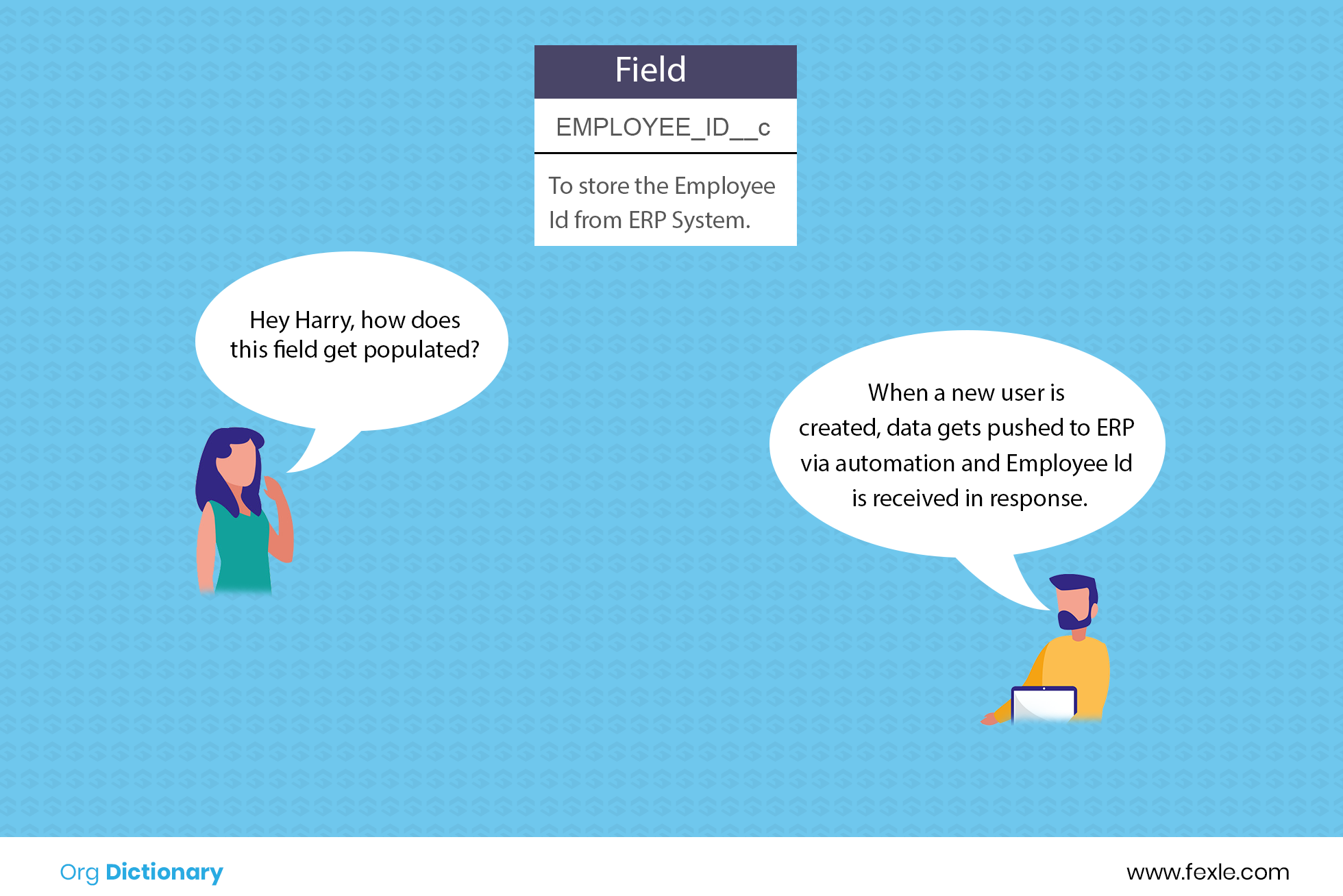 All the discussion and information sharing will streamline the flow of communication among the users, and they will get a clear idea about any metadata to solve their queries. All the created objects and the queries done on them remained safe in this application, and whenever users or developers face any confusion, they can refer to this saved information according to their discretion.
Another important thing that makes Org Dictionary distinctive is its user-friendly and interactive user interface. Our profound designers have crafted its UX UI in such a way that users can easily gather all the required metadata information of standard and the custom objects.
This app also comes up with different other features where users can access a list of objects, fields, record types, chatter, and export & email features, to name a few. All the features make Org Dictionary a kind of smart and interactive real-time collaboration application.
Some Major Features of Org Dictionary
Listing of objects, fields & record types:
A user can search a required object.
App allows users to add new objects as per the requirement.
Users get quick access to the list of all standard and custom objects.
Field & record type information can be easily browsed according to the object.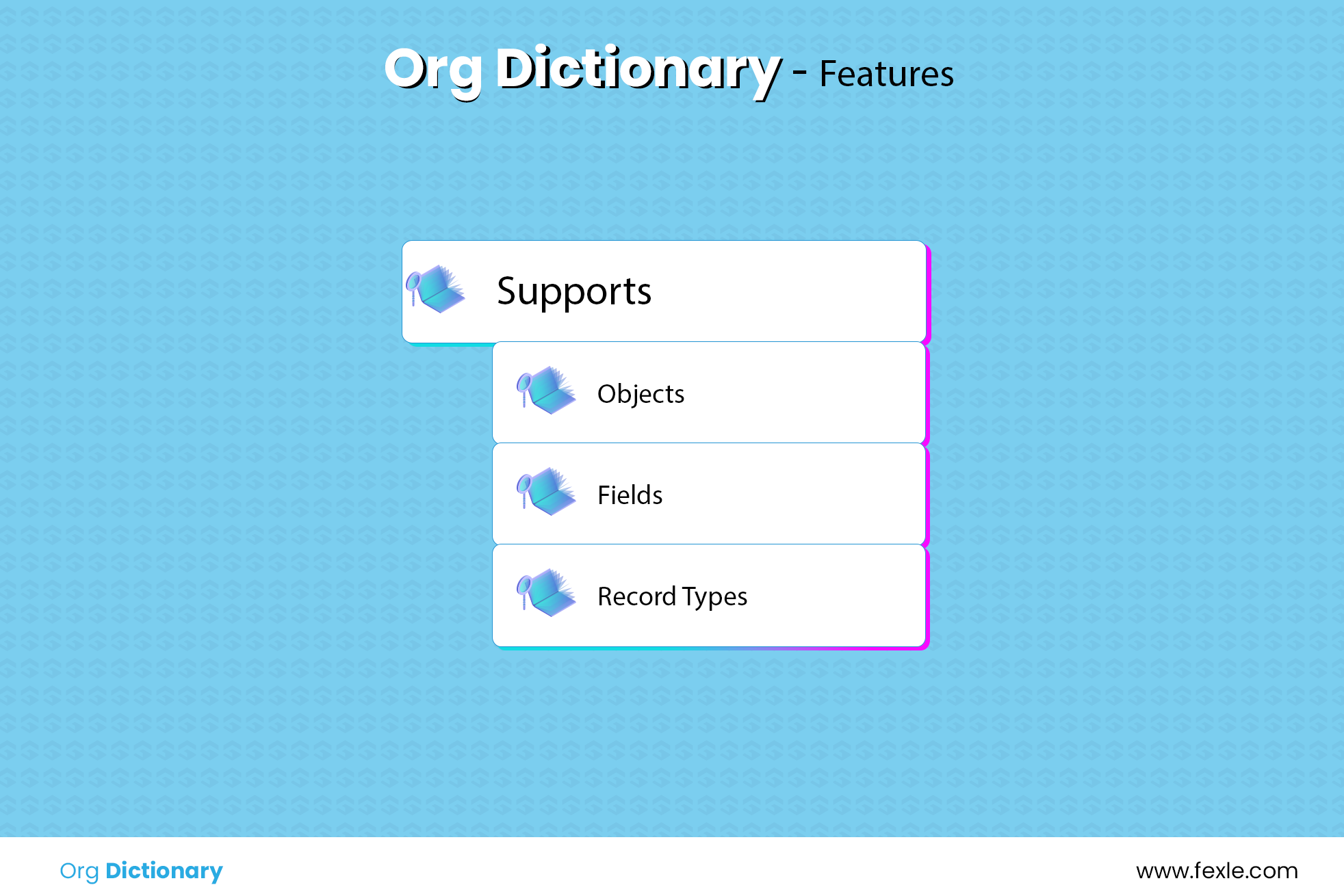 Export and Email
You can download fields & record type details in CSV format.
You can email fields & record type details to the currently logged-in user.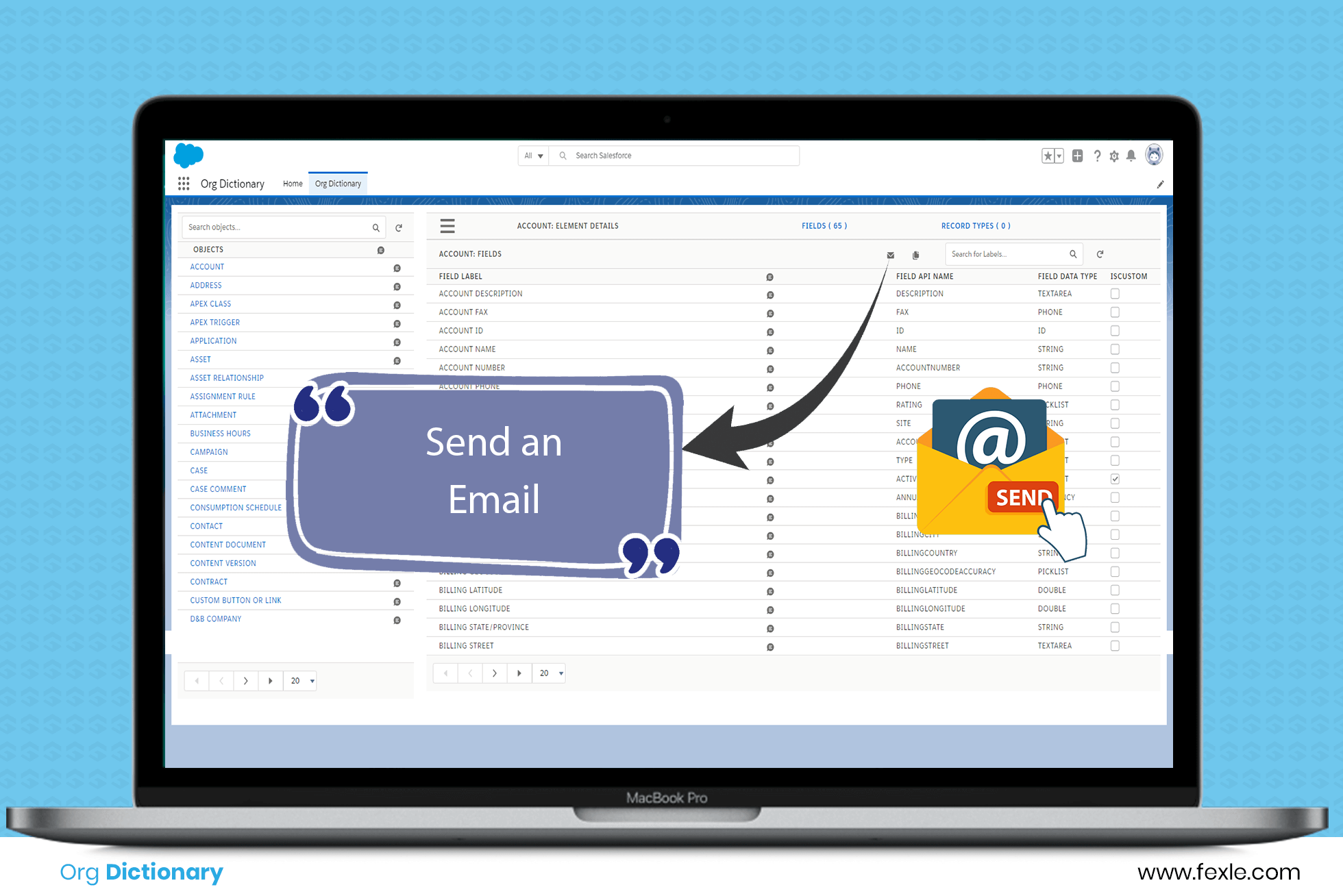 Browse, View, and Collaborate with Org Dictionary Features
Object-level: It gives a list of all the standard and custom objects which are used in the org in alphabetical order. Users can also create new objects as per requirements.
Field Level information: It gives the details of the below-mentioned information of all the fields which are being used in the object.
 Field Label
API Name of the Field
Data Type of the Field Name
Gives the information whether the field is custom or standard.
 Record Type Information: This will give you information about the type of record created for any particular object.
 Chatter: It provides a forum for users to share insights. Chatter will be available for each object and all metadata (Object, Field, and Record Type).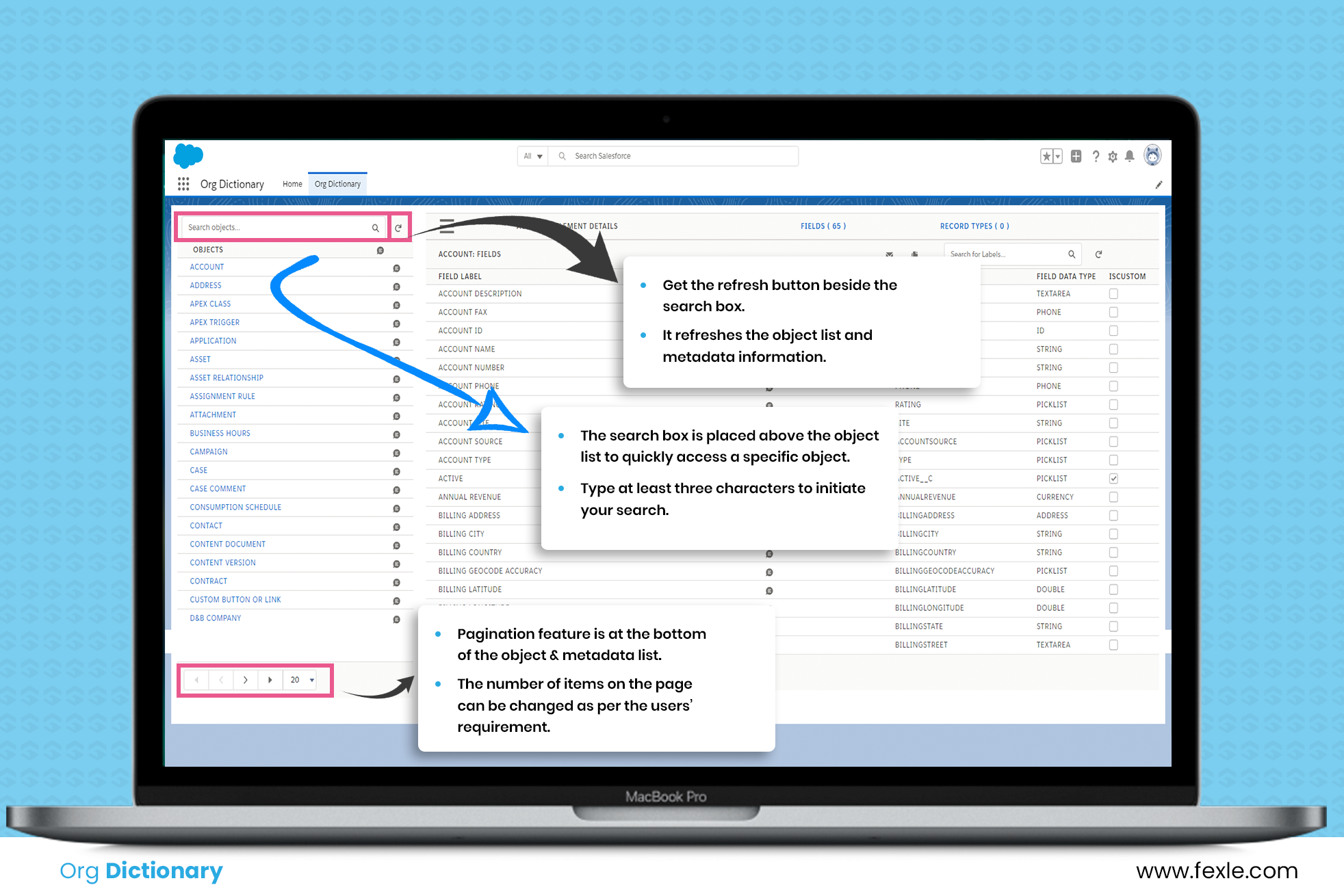 Easy Search
The search box is placed above the object list to quickly access a specific object.

Type at least three characters to initiate your search.
Easy Refresh
Get the refresh button beside the search box.

It refreshes the object list and metadata information.
Pagination for Easy Navigation
Pagination feature is at the bottom of the object & metadata list.

The number of items on the page can be changed as per the users' requirement