The advent of on-demand mobile applications has opened the door of numerous opportunities for mobile app development companies. One of the most preferable and practical on-demand mobile apps is the food delivery application.
Going to the restaurants, standing in a queue, and waiting for our turn to order our favorite food is just antiquated.
Now, you can satisfy your hunger pangs just within a few clicks.
Thanks to technology and online food delivery mobile applications.
The market for online food delivery applications is rapidly increasing. Let's go through some major stats and learn the progressive math of the on-demand food delivery app market.
Figures That Tells The Significance of On-Demand Food Delivery App
Ever since the food delivery applications have entered our lives, our life becomes easy and fun. As food apps are more practical, people can enjoy their favourite food without visiting the restaurant.
According to Statista, the world revenue generation in online food delivery segment is projected to reach USD 1,36,431 million by the end of 2020.
In India itself, the revenue in the online food delivery segment is expected to reach USD 10,196 million in 2020.
Here is a complete graph by Statista that will tell you, how the world of online food delivery has evolved in the past few years, and how it will flourish in the years to come.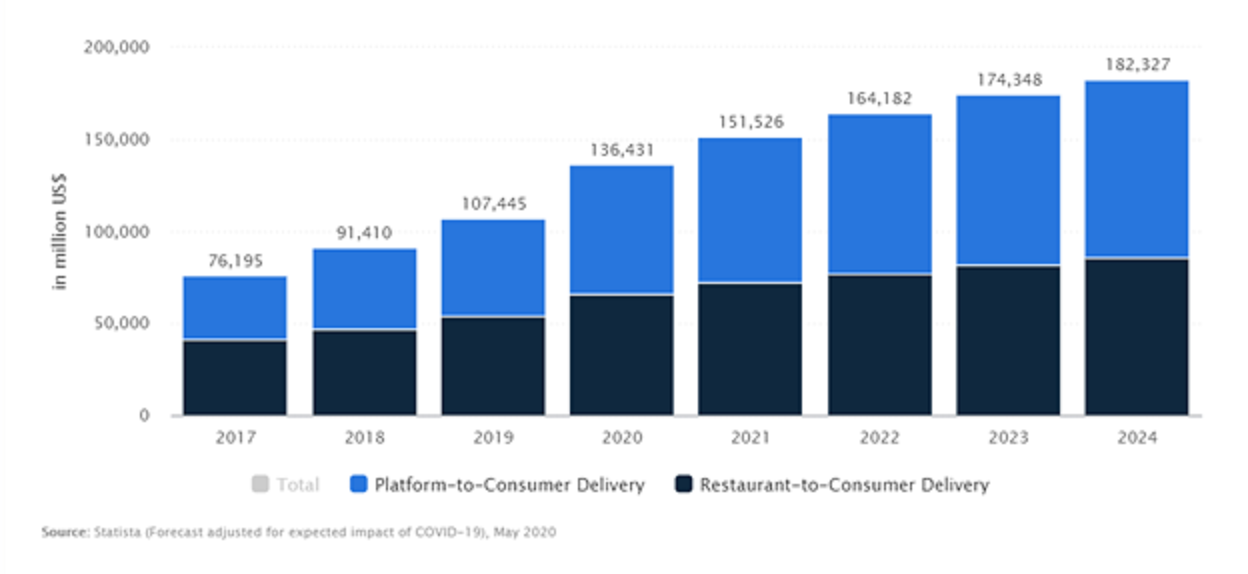 The surging growth in online food delivery is a bright indicator for entrepreneurs and start-up enthusiasts, to leverage the potential of the market and get one a robust and strong on-demand food delivery mobile apps.
The Types of Food Delivery Mobile Applications
At present there are multiple players in the market who are doing extraordinarily well with their food delivery app ventures. Therefore, it becomes evident for a newbie like you to understand the concept of online food delivery app development before jumping into the process.
First, you have to understand the different kinds of food delivery apps which you can offer.
Primarily there are 3 kinds of on-demand food delivery mobile apps which are classified as below:
Business to Business: These apps are also known as Enterprise to Enterprise (E2E) apps. These types of apps can help in creating business strategies for different businesses. The vertical B2B mobile apps allow users to serve a single industry or business, and the horizontal offers services to multiple businesses.
CaterNation and Emerge are the best examples of B2B on-demand food delivery mobile apps. Both of these apps let businesses and customers find a suitable place.
Business to Consumers: Also known as Aggregators application, these B2C online food delivery apps allow transactions of multiple products or services between a single person and provider.
These apps are also called Enterprise to Person (E2P) apps and of the examples of such apps are Starbucks, McDelivery, etc.
Users will get a friendly environment, single-click payment option, and also real-time location tracking.
Consumer to Consumer: These apps are also called full-stack food delivery mobile applications. Such apps allow the exchange of products and services among different consumers.
Zomato, Munchery, etc. are some of the best illustrations of C2C food delivery apps. Such mobile apps control a complete working from cookies to logistics.
We hope by now, you have understood the types of on-demand food delivery apps. In the present time when hospitality and restaurant businesses have experienced a jolt due to the COVID-19 crisis, many restaurants – small and big – have shifted towards online food delivery app development.
 

Corona Crisis and The On-Demand Food Delivery Mobile App Requirements
The panic buying, as well as the fear of getting infected, are the two major factors that are driving people to download food delivery apps.
Even entrepreneurs are leveraging this time and investing a huge chunk of the amount in online food delivery app development.
In the past few months, the average daily download of food delivery apps like Walmart Grocery, Instacart, and Shipt have seen surges of 160%, 218%, and 124%, according to a survey by apptopia.
Everyone wants to stay home and stay safe from this pandemic, and in this situation, an online food delivery app is the best thing you could have to satisfy your hunger pangs.
Due to the wide-spread of Coronavirus, you customers cannot go to restaurants but, on the other hand, restaurants can go to customers, and henceforth, there's a skyrocketing growth in the global market of food delivery mobile apps.
These apps will not only save your customers time but also save them from getting contagious.

Feature Panels for Online Food Ordering Applications
If you are planning to develop a food ordering mobile app, then you should know about these certain panels which will streamline every single process from food ordering to food delivery to ratings and review.
These different panels are as follows:
Customer or User Panel in Food Delivery Mobile App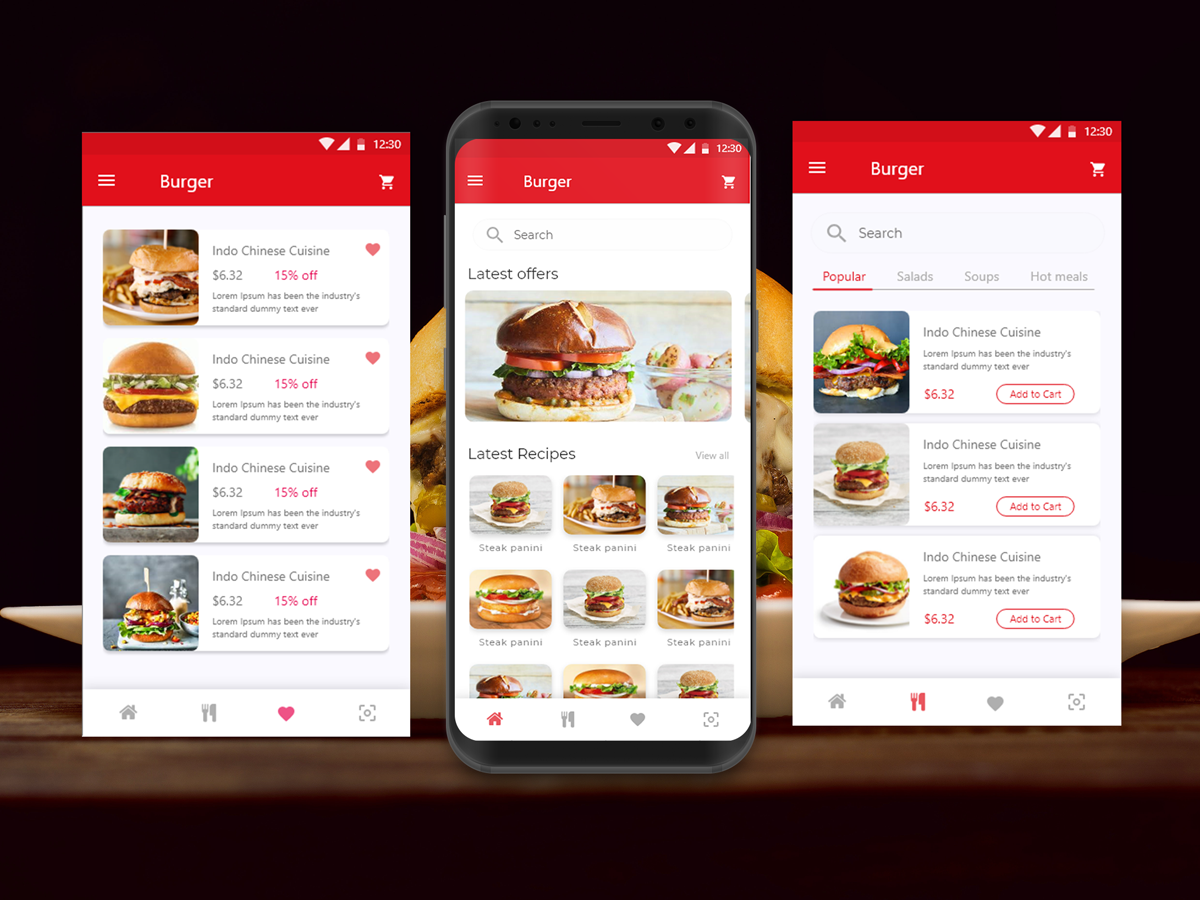 Sign Up/ Sign-in – A customer needs to register with a username and password, and sign-in into the app.
Address/Location – Customers have options to either put an address manually or use auto deduct live location.
Customer Dashboard – Users can surf through multiple food stations and can filter as per the requirements.
Food Ordering – Check the menu card of the desired restaurant, select menu, add to cart, and checkout.
Cart Option – Users can enjoy different available promo codes and offers.
Payment Options – Customers can either make payment via cash on delivery or by using UPI app, debit card, credit card, etc.
Food Delivery Mobile App Wallet – Add money in your food app wallet, and easily make payment at the time of checkout.
Offers and Coupons – Users can avail promo codes and offers at the time of payment.
Order Tracking – Track the real-time status from food processing to delivery agent's live location.
Delivery Ratings – Users can add review and comments once the food reaches them.
Order History – Customers can check the history of all previous orders, with price details.
Restaurant Panel in Food Delivery Mobile App
Restaurant Registration – Create a profile for your restaurant with all the correct and authentic information.
Dashboard –Through the dashboard, a food joint owner can check order history, pending orders, future orders, orders placed, and cancelled orders.
Menu Management –The owner can easily manage food items in the menu bar and can also define their categories.
Cancellation – The restaurant owner will have a right to cancel the order if the ordered food item is not available.
Call or Chat – Restaurants will have a privilege to receive special orders or comments, directly from customers one to one.
Order History – Easy management of previous orders and history.
Payment – Restaurant owners can transfer received money either to their bank account or to other platforms like wallet apps.
Delivery Agent Panel in Food Delivery Mobile App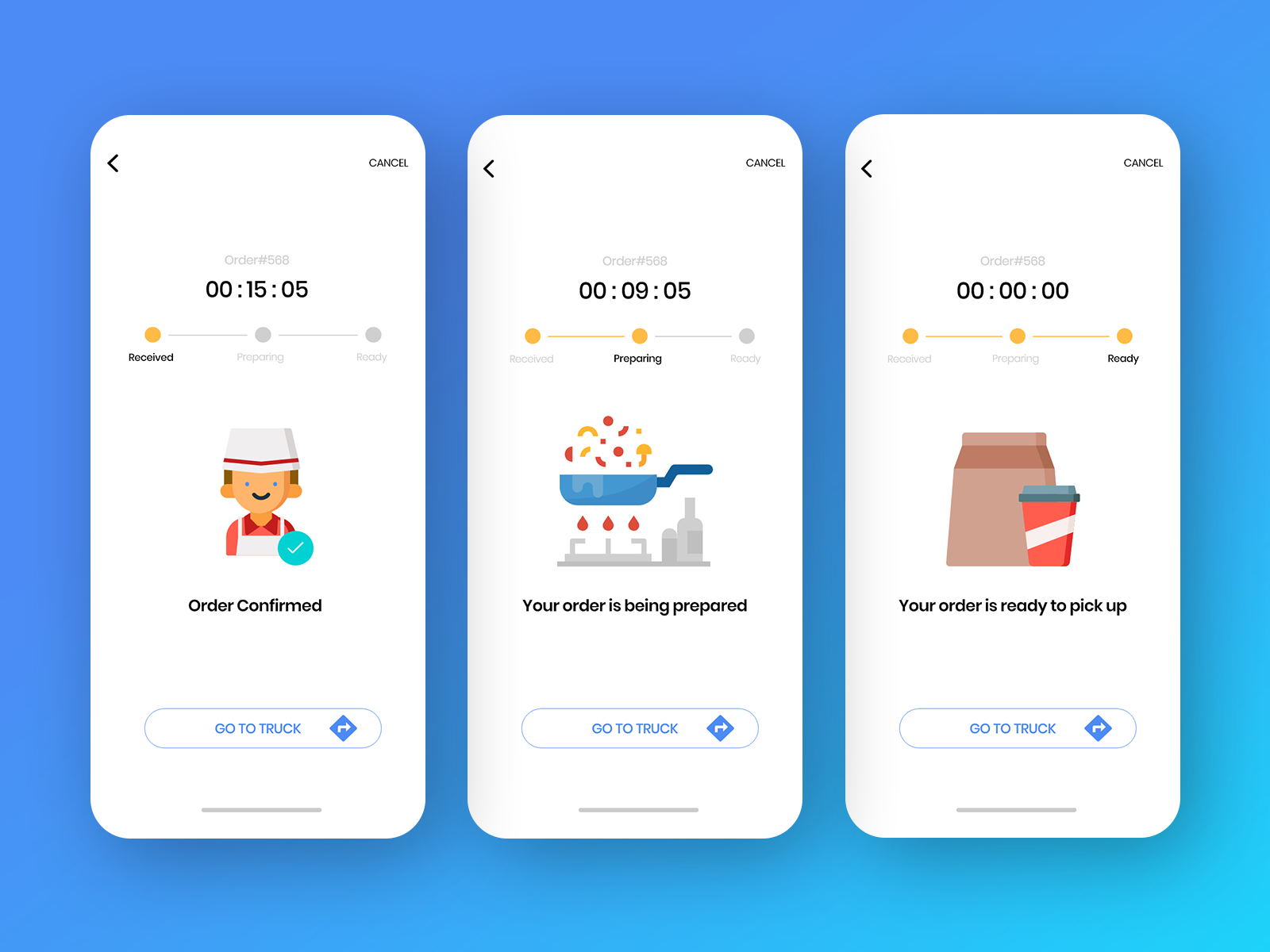 Sign Up/Sign-in – Registration of a delivery agent using one's email id and phone number.
Driver Dashboard – The agent can check the order summary, and status of order as accepted, delivered and canceled.
Active Status –If a delivery executive is available, then one can turn on their status active in the app, and order requests will be placed to the agent.
Navigation –It will help a delivery agent to explore the location of customers as well as restaurants.
Call/Chat –The delivery executive can make a call, receive a call from customers.
Order Summary –One can check previous orders' history.
Essential and Advanced Online Food Delivery App Features
Social Accounts Sign in/Signup – Users will have the option to create their account using their social media accounts.
Behaviour Tracking –It helps in learning customers' preferences and food behavior and provides related food items.
Multiple Order – It will let users make multiple orders simultaneously.
Book Food for Friends –Users can fill the same details with different locations and order food for others.
Custom Packages: Users can place customized orders on special requests.
Re-ordering: It allows the customer to make the same order they made in the past and help in saving time.
Some other features that will help in making a strong and feature-rich online food ordering mobile applications are as follows – 
– Group-ordering
– Text Order to order food offline by simple text message.
– Push Notifications
– Franchise Management
– Real-Time Analytics
– Role-Based Dashboards
– Multiple Payments Mode
– Navigation & Tracking Feature
– Marketing Tool
– Loyalty Programs
– CRM Integration
– CMS Integration for News and Articles
– In-app Calling
– In-app Chat
– Bill Splitting
Technology Stack for Food Delivery Mobile App Development
All the features and panels that are discussed above hold a prominent place in deciding the right cost of development for a food ordering app.
One more important factor that decides the cost of food ordering app development is the use of technology.
Below given table will tell you all significant and right technologies that will help you build an interactive, immersive, strong, and user-friendly food delivery app.
| | |
| --- | --- |
| Technology | Stack Features |
| Cloud | AWS, Azure, Google |
| Push Notification | Twilio, Push.io |
| Phone Verification | Twilio, Nexmo |
| Mobile Platform | iOS, Android |
| Database | MongoDB, Postgres |
| Real-time Analytics | IBM, Cisco |
| Payment Gateway | Paypal, Debit/Credit Card, Google Pay |
How Much Does it Cost To Develop Online Food Delivery Mobile App
After learning all these different attributes of food delivery app development, you might be wondering, how much does it cost to build an app with so many features, functionalities, and technologies?
If we give you an exact rate, we would be lying to you.
The development cost of every app varies on project to project, and customers' requirements.
Still, if you want a figure, we would say that the cost of developing a food delivery app like Zomato and Swiggy will be somewhere around 30,000 USD to 40,000 USD.
If you want to include any advanced feature then, in that case, it cost will extend to 50,000 USD to 60, 000 USD.
The cost of development also depends on the level of developers and his or her expertise.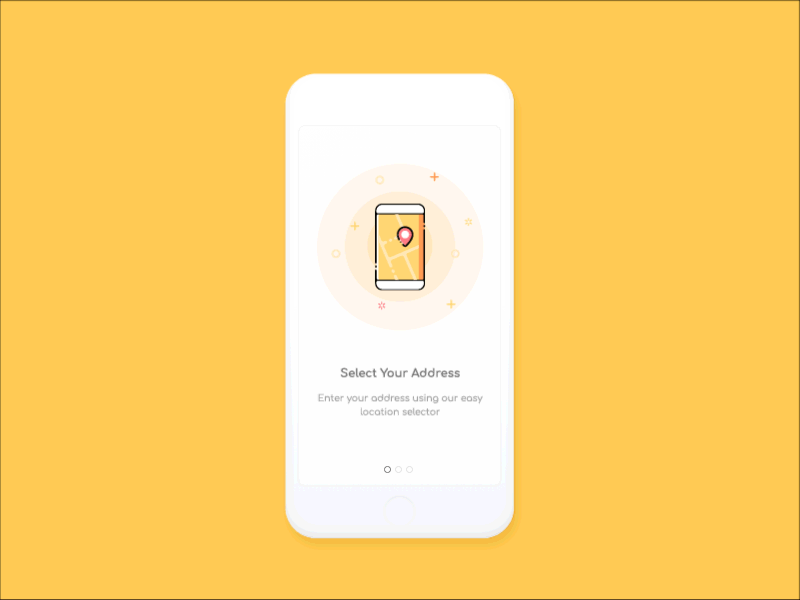 Things To Consider While Food Delivery App Development
:- Do thorough market research and analysis.
:- Perform competitor analysis.
:- Find restaurants to partner with.
:- Approve only user-centric UX/UI design.
:- Should have an easy to navigate the application.
:- Develop easy to use functionalities.
:- Strong payment gateway option.
:- Multiple payment facilities.
:- Develop an MVP that helps in raising money.
:- Find a mobile app development company with a proven track record.