In the present era, when the entire world is suffering from a pandemic, in such a situation, taking care of health and health issues is a primitive task.
Lacs of people across the globe are severely getting affected due to the Covid-19 pandemic, and still, the situation is getting tough with each day.
In the present time, when social distancing has become a new normal, having a doctor on-demand and telemedicine mobile applications become imperative.
The doctor on-demand mobile apps allow people to not only book appointments within a few clicks but also to get treated from the comfort of their home in case of minor treatment.
Stats That Shows the Current Market of mHealth Applications
Before the COVID-19 era, the people who used telehealth apps were merely 11%, which has increased to 76%. It means more people are now using these apps to replace healthcare visits.
In the past few months, the number of telehealth visits has increased to 175 times from merely 50 in the past few months, which gives the testimony of the popularity of the doctor on-demand application.
According to a report by Grand View Research the global market of doctor on-demand mobile apps and mHealth apps are likely to cross $112 billion by 2015 with a CAGR of 44.2%.
In another report by Statista, mobile healthcare apps have emerged as an important contributor in the revenue of the digital healthcare market and it will expand to $58.8 billion by the end of the year 2025.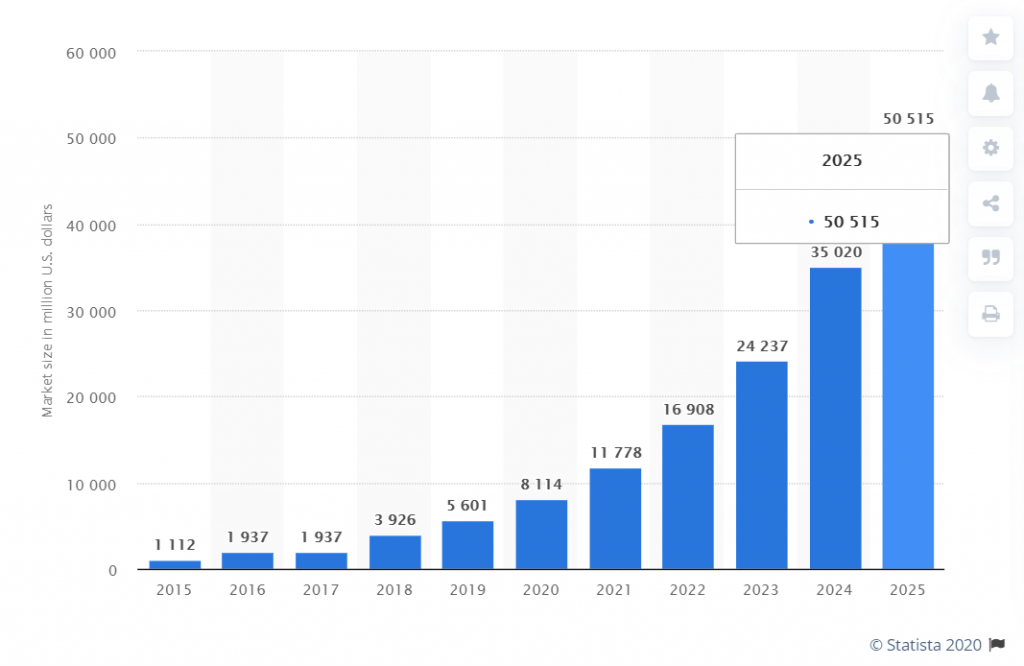 Alone in the United States, the market of the telemedicine apps is expected to reach over $22 billion by the year 2022.
Benefits of Doctor On-Demand Mobile Apps
People across the globe are harnessing the power of telemedicine applications. The doctor on-demand mobile apps are compact with multiple benefits which are as follows:
Enhancement in Patient Outcome – With the help of the doctor on-demand applications patients can avoid the long process of visiting clinics, follow-ups with hospitals, appointments booking, seeking medication, and many other tasks. It improves the way doctors pay attention to their patients.
Paperwork Reduced – It is one of the significance of doctor on-demand mobile apps as they allow not only healthcare practitioners but also the patients to maintain the proper record on their mobile apps.
Life-Saving – People in rural areas often go to lots of suffering whenever they have to consult or visit a doctor. With the help of telemedicine apps, they can easily book an appointment with a doctor and consult them to avoid life and death health situations.
Higher ROI – The telemedicine application is a boon for doctors in saving their cost of investment of equipment, hospital staff, and infrastructure. This will create & maintain a higher ROI.
Some other benefits of doctor on-demand mobile apps are a facility of reasonable services, reduction in hospital readmissions, improved mature work-life balance, and helpful in staying ahead in the competition.

The Working Process of Doctor On-Demand Mobile Application
Before we move ahead and dive deep to learn more about doctor on-demand mobile apps, let's take a quick look at how a doctor on-demand app works? So, whenever you connect with a mobile app development company, you can discuss the project with them with proper understanding.
The working process is as follows:
Register and Make Profiles – Users get themselves registered on the app with their phone number or e-mail id and create their personal profile.
Doctors Availability – Users can book the appointments according to doctor's availability.
User Information – All essential information like age, gender, height, weight, etc. will be automatically transferred to the doctors from users' profiles.
Search Online Doctors – The doctor appointment booking app enables users to search for professional medical practitioners and doctors online.
Doctors Profile – One you are done with searching for doctors you can check his or her profile containing their entire description.
Book Appointment – After checking their details and once you are satisfied with the same, you move ahead and book an appointment with your desired doctor.
Personal Assistance – On the basis of emergency, users can also opt for personal medical assistance, where doctors visit their place personally.
Telemedicine Services – The feature-rich doctor on-demand mobile app also offers telemedicine services that enable users to order prescribed medicine from their app.
Make Payments – Once all the entire consultation and process gets over, users can make payment through a secure payment gateway of the app.
Different Panels for Doctor On Demand Mobile Application
To make a well-structured doctor appointment booking app you need to understand its structural features, which make the app reliable.
There are three major structures, namely Users, Doctors, and Admins. Let's understand them individually.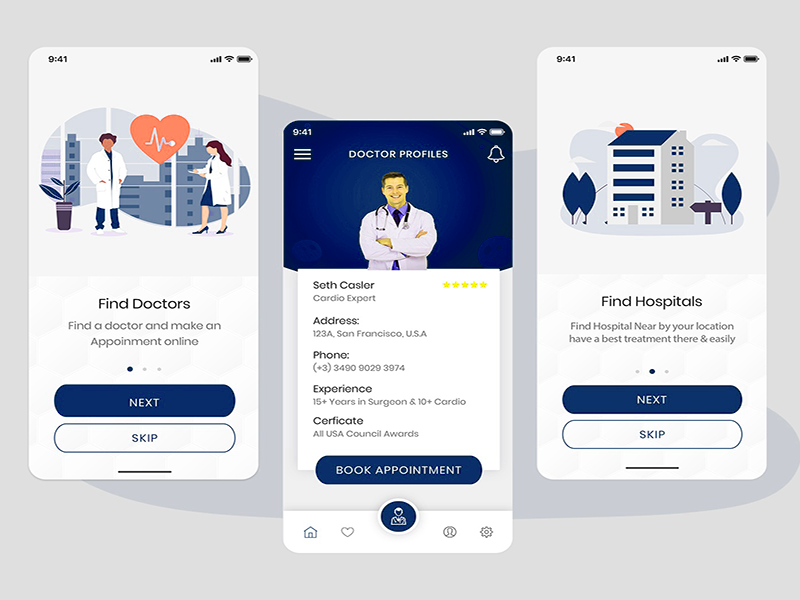 Doctors Panel Features
Web/Mobile Doctor Panel – Doctors first land on their panel portal post app installation.
Profile of Doctors – It includes details such as name, photo, address, area of expertise, user ratings, appointment hours details, etc. Doctors can also include details like education, certification, past experience, etc.
Appointments Status – Doctors can view and manage the time and date of booked, canceled, and completed appointments.
Acceptance & Rejection of Appointments – Doctors can check their list of appointments and have the option to accept or reject any particular meeting.
Live Video Call – Doctors can treat common symptoms like fever, cold, cough, etc. via live video call option.
Schedule Edit – Doctors can make amendments in their daily schedule and availability.
Here are some more doctor panel features – patient progress chat, in-app chat option, in-app calling option, check earnings, track user location, refill medication, patient history, and document access.
Patients Panel Features
User Profile – Patients will have their web or mobile panel in which they can sign in or sign up through their phone number or e-mail id.
User Profile – Patients can maintain their profile by putting significant details such as name, address, sex, age, etc. These details are important from the point of view of the treatment process.
Appointment Booking – This central feature of the app will allow patients to book an appointment with their preferred doctors at a suitable time.
Tracking Doctor's Location – Patients can track doctors based on their locality or proximity.
In-App Chat – The patients can communicate with specialists and get timely reports or answers to their queries.
In-App Calling – With this feature patients can anytime connect with the doctors to discuss their issues.
e-Media Records – Patients can upload & share their health-related documents that will be necessary for future consultation.
Payment Modes – The strong payment options integration is absolutely mandatory.
Here are some more features that you can ask your mobile app development company to include in the patient panel of your doctor on-demand mobile app. The features are as follows: doctor identification, profile set up, loyalty programs, email, SMS, push notification alerts, provide review & rating, post-appointment request, and many more.
Admin Panel Features
Patient Management – This panel is compact with all the essential details of the patients such as their medical documents, history, treatment details, etc.
Doctors Management – It includes doctors' details according to their area of expertise. Patients can click on the category and book an appointment with the required doctor.
Report Management – The feature enables the store to store detailed reports of patients.
CMS for News & Articles – The admin of the mobile app can manage the content on their portal from publishing to editing and deletion.
Marketing Tools – Following are marketing tools that admins can include in their app, coupon codes, offers, SEO tools, loyalty programs, etc.
Before you hire a mobile app developer, make sure you know the following admin features for your doctor on-demand mobile application: real-time analytics, push notification, communication channels, in-app camera, GPS tracking, payment, etc.
List of The Advance Features of Doctor On-Demand Mobile App
Social sign up and log in
In-app camera
In-app call and chat
In-app navigation
Real-time tracking
Cost calculator
Push notifications
Medication reminder
Real-time analytics
Multiple payment options
Document sharing
CMS integration
CRM integration
Loyalty program
Electronic Health Record (EHR)
Automated health insurance claims
Marketing & promotional tools
Multi-currency payment
Multilingual user-interface
Revenue Model of Doctor On-Demand Mobile Application
How to earn money from a doctor on-demand mobile application? If you are also having the same question in mind, then you have arrived at the right place. Here are the following ways that will help you generate huge revenue from a doctor appointment app:
Premium Listing – There can be numerous doctors and laboratories on this application platform, and due to which it becomes tricky for them to stay in the spotlight. Here comes the paid feature, where you can ask a premium membership amount from the doctors to make them show on top in the search results of the patients.
Commission Based – This is one of the simplest revenue models, wherein pays directly to doctors for their treatment and the admin will get a certain amount of commission out of it. Doctors get a platform for expansion, the app gets a commission in return.
In-App Advertisement – You can allow labs or pharmaceutical companies to show some ads in the apps to attract patients. Through this revenue model, users can learn about more popular medical service providers and they streamline the connection as well as the revenue generation process.
Involved Technology Stack for Doctor On-Demand App Development
If you want to create a feature-rich, strong, and reliable on-demand mobile app, then you should focus on implementing the right set of technologies. The following are the important names of different technologies:
Cloud Environment – AWS, Google, Azure
Push Notifications – Twilio,Push.io
Payments – Braintree & PayPal, Stripe, EWallets
SMS, Voice and Phone Verification -Nexmo, Twilio
Realtime Analytics – Hadoop, Spark, BigData, Apache Flink, Cisco, IBM
Database – MongoDB, Hbase, Cassandra, Postgress, MailChimp Integration
Team Required for Doctor On Demand Mobile App Development
The doctor appointment booking app development is a long and crucial process and to accomplish this process in the smoothest way one requires support from the experienced and expert team of app developers. Here is the basic team structure of team:
Project Manager
Android Developers
iOS Developers
Backend app developers
Graphics designers
UX/UI designers
QA testers
How Much Does it Cost to Develop a Doctor On Demand Mobile App?
There are several factors that affect the development cost of a mobile application that varies from the technology stack used, number or basic and advanced features, the expertise of the developers, development platform (Android, iOS, etc), geographical location, etc. The cost of development also varies from country to country. In the USA the per hour cost of mobile app developers includes USD $150 to $250. In Eastern Europe, it is USD $120 to $180 and in India, the hourly rate of development varies from USD $40 to $80.